Outdoor umbrellas, as their name suggests, are umbrellas that are customized for only outdoor purposes. They are sometimes called patio umbrellas or garden umbrellas. They are large and provide users with the best coverage from discomforting sunlight and rainfall; meanwhile, for these umbrellas to live up to their name and the primary purpose of construction, they must be built with durable materials.
The quality of the materials used to build outdoor umbrellas solely depends on the umbrella manufacturer. Hence, it is essential to consider various factors before working with an umbrella manufacturer. To protect you from being a victim of umbrella companies that produce low-quality products, we will provide you with valuable information in this article. But before we dive into the most reliable manufacturer of outdoor umbrellas, let's talk about the factors that define a reliable outdoor umbrella manufacturer.
Top List Of Outdoor Umbrella Manufacturers
Huifeng Umbrellas
Totes Isotoner
Fulton Company Limited
FOX Umbrella
Branded-Brolly
Superain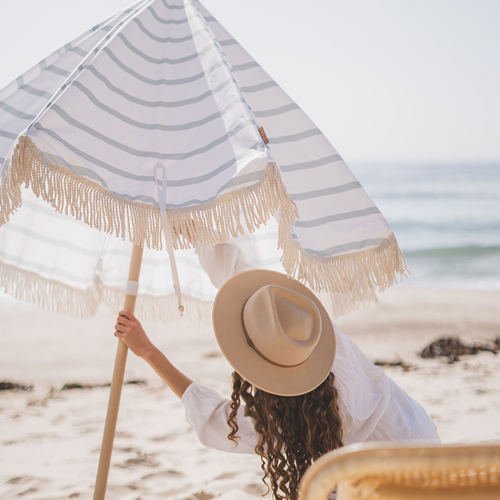 Huifeng Umbrellas
Huifeng Umbrellas, commonly called HFUmbrella, is arguably the best and most reliable umbrella manufacturer in China. This umbrella manufacturer was founded in 1987 in Guangzhou, China. They have over thirty years of experience in manufacturing a wide range of premium umbrellas globally.
They are different from other umbrella manufacturers due to the various kinds of umbrellas they manufacture. The umbrellas they provide are mostly absent across multiple umbrella manufacturers and suppliers. Most manufacturers offer ready-made umbrellas, but Huifeng Umbrellas are popular for building umbrellas from scratch, depending on your choice of design. Yes! HFUmbrella offers clients customization options to build umbrellas that can portray the great quality of the services of your business or brand.
The various kinds of umbrellas HFUmbrella manufacturer include golf umbrellas, rain umbrellas, parasols umbrellas, promotional umbrellas, sports umbrellas, kids umbrellas, patio umbrellas, outdoor umbrellas, wedding umbrellas, folding umbrellas, and many more. Huifeng Umbrellas` great reputation is globally popular, and they export most of their products to Australia, the USA, Canada, the UK, Europe, Korea, and Japan.
Huifeng Umbrellas Outdoor Umbrella Product Review
Customized Design Tassel Beach Umbrella
This beach umbrella, as the name implies, features a tassel design. Although it is known to be a beach umbrella, it can also be mounted in your backyard for relaxation. It features a wide canopy to provide you with excellent coverage to forestall discomforts caused by the sun. The canopy is made of a polyester fabric that features an ultraviolet protection property to protect you from over 99% sunlight (UVA and UVB).
The raw materials used for constructing this beach umbrella include steel poles. The steel pole is durable (long-lasting) and sturdy to withstand strong wind. The pole is also adjustable to adjust the canopy to a position that shades you from the sun. Their white powder coating enhances the durability of the pole and frame system of this beach umbrella.
It also features a tilt button to make the adjustment of this umbrella to blockade the sun rays from any angle. Hence, it offers the maximum coverage you can ever think of. Lastly, it features a ventilated roof that helps maintain the beach umbrella's stability when exposed to heavy wind.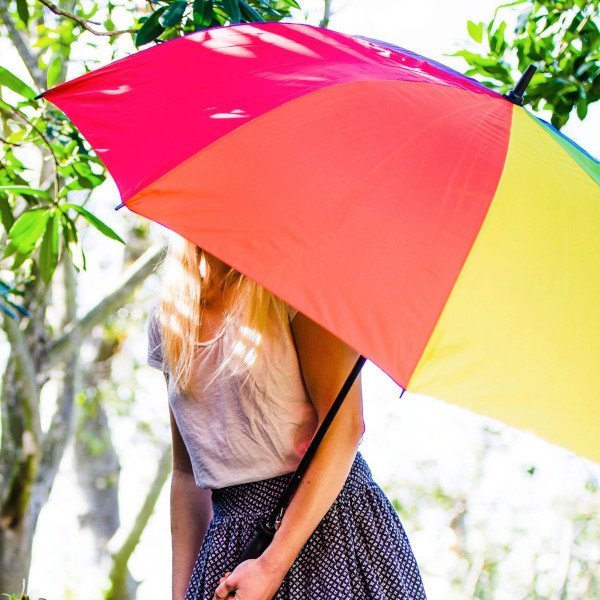 Totes Isotoner
Totes is one of the popular umbrella manufacturers globally known for its high-quality umbrellas. Totes was born in 1924 in Ohio, United States. Totes are among the pioneers in the manufacturing of umbrellas. Their current premium quality and durable umbrellas stem from their fifty years of expertise, experience, and innovation in the world of umbrellas. Their primary goal is to make people stay outside comfortably without being disturbed by rainfall or sunlight. They are known as the first foldable umbrellas manufacturer. They manufacture various types of umbrellas, like sport, golf, compact, kids, and outdoor umbrellas.
Totes Outdoor Umbrella Product Review
Auto Open Golf Umbrella with Vented Canopy
This umbrella is an automatic umbrella. What does this mean? It means you can open the umbrella easily by pressing a button on its ergonomic handle. Hence, you can escape getting drenched in the rain when holding a bag with your other hand. The canopy it features is a 60-inch sized canopy. The canopy is also vented to protect the umbrella from flipping inside out on windy days. Hence, it is wind-resistant.
The extra-large canopy of this umbrella offers the best coverage to protect two people from the discomfort they may experience from rainfall and sunlight. The construction of this umbrella includes the use of premium quality fiberglass that is sturdy and flexible at the same time; hence, it can not snap when it bends on windy days. The flexible and sturdy fiberglass also contributes to its wind-resistant features. Lastly, the fabric used for the canopy features ultraviolet blocking and waterproof properties to serve its primary purpose.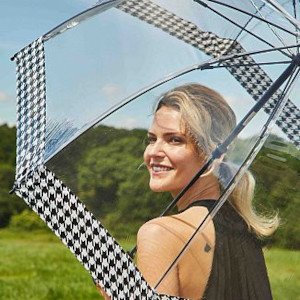 Fulton Company Limited
Fulton is an umbrella manufacturer and supplier among the pioneers' outdoor umbrella manufacturers. This umbrella manufacturer was established in 1956 and is the largest supplier of various kinds of umbrellas in the United Kingdom. The popularity of this umbrella manufacturer is a result of the aesthetics and quality properties they feature in their products.
They offer various kinds of umbrellas, such as sport and golf umbrellas (outdoor umbrellas), men's, ladies, and kid's umbrellas. All of these various kinds of umbrellas protect their users on sunny and rainy days. The umbrellas they supply are constructed with the best materials you can ever think of to effectively provide you comfort when outside from unforeseen downpours and scorching sun.
Fulton Outdoor Umbrella Product Review
Cyclone Umbrella
Cyclone umbrellas are built to protect people from getting wet on rainy days in a fashionable manner. They come in different colors, that is, Black and Green Cyclone umbrellas. Bad weather, such as unforeseen rainfall, can ruin a sporting event, such as golf. Meanwhile, using a cyclone golf umbrella will save you from such a frustrating event. This is because of the high-quality raw materials used in the construction of a cyclone umbrella that make it waterproof, fade-resistant, and wind-resistant.
The canopy is built with a fabric that is strong enough to protect you from about 99.9% ultraviolet rays on sunny days. This fabric is also waterproof to keep you dry when it rains. The best part of a cyclone umbrella's canopy is the fade-resistant property it features. Hence, the attractive design on this umbrella will last for an extended period without fading, irrespective of how often it is used. Lastly, this Fulton umbrella is built with sturdy and flexible frames and fiberglass to make the umbrella windproof (it can resist wind of 78 mph). It features an ergonomic handle that is easy and comfortable to grip due to the silicon finger pad and rubber coating it features.
James Smith and Sons Umbrellas
James Smith and Sons Umbrellas are among the top-rated manufacturers of umbrellas in the United Kingdom. This umbrella company was established in 1830, and they have been growing in their innovation and design. They are popular for manufacturing sleek umbrellas to make you stand out fashionably. It is, however, challenging to find umbrellas that are sleek and durable at the same time but different from James Smith and Sons Umbrellas.
They make use of standard materials to ensure their products are sleek and durable. The durability of their products lies in the high-quality materials they use for their umbrella's canopy, frame, handle, and fiberglass. These durable materials make their products offer great coverage on rainy and sunny days for a long period without snapping on windy days.
James Smith and Sons Umbrellas Product Review
Extra Large Straight Malacca Cane
This is an extra-large outdoor umbrella manufactured via handmade procedures with a straight malacca cane handle. It is uniquely made and different from regular umbrellas. It features a thick woven cotton cover that is Ivory in color. This cover is responsible for providing users with cool shade when exposed to harmful and scorching sunlight.
The canopy has a size of 51.2″ (130 cm) which is large enough to offer two people the cool coverage they need on rainy and sunny days. The materials used for the frame system of this umbrella are resistant to corrosion; hence, they will last for a long period in good health.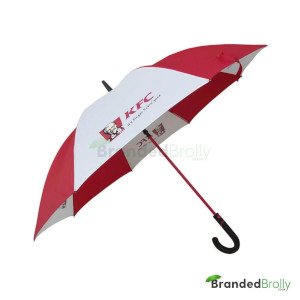 Branded-Brolly
Branded-Brolly is a United Kingdom-based umbrella manufacturer or company. They build different kinds of umbrellas from scratch, and they are internationally famous in the umbrella market due to the premium quality of the feature. They offer and manufacture various kinds of umbrellas to meet their clients' needs without causing them discomfort. The umbrellas they manufacture are golf umbrellas, telescopic umbrellas, auto umbrellas, Inverted umbrellas, outdoor umbrellas, custom umbrellas, and kids umbrellas.
They construct their umbrellas with great aesthetic features to serve as a suitable promotional tool for various brands. Branded-Brolly is popular for providing customers with customization options only a few umbrella manufacturers offer. Hence, they ensure the umbrellas they build for your company portray the quality, reliability, and durability of your brand. The umbrellas they construct are built to withstand gusty winds, to be waterproof, and suitable for providing you with cool shade on sunny days.
Branded-Brolly Umbrellas Product Review
Branded Brolly™ CantiLever Deluxe
This Branded-Brolly umbrella is an outdoor umbrella with a cantilevered pole to hold the umbrella in place. It is 11 feet long when assembled, and it is designed with a 360° turntable. The pole it features can be adjusted to make the canopy offer the best coverage to protect you from the direct ultraviolet rays of the sun at any angle.
Branded Brolly™ CantiLever Deluxe features a dual top canopy to shade users from about 99.9% harmful and scorching Ultraviolet rays from the sun. Hence, it can be used in locations with hot weather to keep people outside on sunny days without discomfort. The fabric used for this umbrella's canopy has waterproof properties to keep your outfit and beautiful hair dry when it rains. The canopy is also fade-resistant; hence, the umbrella often appears new in aesthetics, irrespective of how frequently it is used for coverage. Lastly, it features a silver-coated finish to protect the frame system and fiberglass from corrosion; hence, making the umbrella durable.
Superain Umbrella
Superain umbrella manufacturer is a prominent umbrella manufacturer in Fujian, China. They have over twenty years of experience producing premium quality umbrellas to meet your business requirements. Although Superain umbrella manufacturing company is located in China, they export their products to various countries. The countries they export their products to include the USA, UK, Australia, South America, Canada, Korea, Japan, and many more.
Superain manufactures various kinds of umbrellas, such as golf umbrellas, men's umbrellas, ladies umbrellas, wedding umbrellas, outdoor umbrellas, compact umbrellas, travel umbrellas, beach umbrellas, kids umbrellas, and many more. The wide range of umbrellas they construct is made from high-quality, durable frames, fabrics, and other materials. The quality of their umbrellas is the main factor that makes them survive in the umbrella market filled with numerous competitors since 1995.
Superain Umbrellas Product Review
Large Parasols Beach Umbrella
There are various umbrella manufacturers popular for producing premium quality beach umbrellas, and Superain is among this list. They are arguably one of the best beach umbrella manufacturers from China. They supply a wide range of beach umbrellas for various purposes, such as promotional and advertising purposes. The large parasol beach umbrella is among the several beach umbrellas they offer.
This beach umbrella is built with premium quality raw materials to make the umbrella serve its purposes fashionably and durably. The fabric used for constructing this beach umbrella is a polyester 160G fabric. This fabric makes this umbrella suitable for protecting you from the harsh sunlight on the beach. The canopy is also water-resistant to keep you dry and comfortable when it rains on the beach.
One of the factors a beach umbrella must possess is a windproof property. Many people on the beach often chase their umbrellas on windy days. It is, however, not supposed to be so and to avoid this, Superain constructs beach umbrellas with standard windproof features to keep your beach umbrella intact and strong enough to withstand gusty and strong winds.
Conclusion
There are various outdoor umbrella manufacturers today, but only a few are reliable. It is, however, essential to work with manufacturers that offer customization options, like HFUmbrella, to bring your dream to reality, rather than settling for already made umbrellas.