Do you need a flexible and inexpensive marketing strategy? Then perhaps you're in the market for a few promotional umbrellas.
These objects not only serve a practical purpose by shielding their owners from the elements, but they also present a fantastic promotional and marketing opportunity. Let's discuss the effectiveness of promotional umbrellas in making a long-lasting impression on your audience.
How Promotional Umbrellas Can Help Your Business
Get Noticed Everywhere: Increased Brand Visibility
Having your brand name out there is one of the main benefits of using promotional umbrellas. If you're looking for a promotional item that won't get lost or forgotten, look no further than the ubiquitous umbrella.
Visualize a rainy outdoor event or a busy city street covered in bright umbrellas bearing your company's emblem. Everyone in the neighborhood will be exposed to your brand name, introducing your company to anyone who happens to be there at the same time.
For outdoor events like fairs, concerts, and festivals, promotional umbrellas can serve as a moving billboard.
Attendees who receive one of these branded umbrellas will not only appreciate its functionality but also become walking ambassadors for your brand wherever they go.
Moreover, promotional umbrellas are often shared among friends and family members when needed. This means even more eyes on your branding message without any extra effort from you!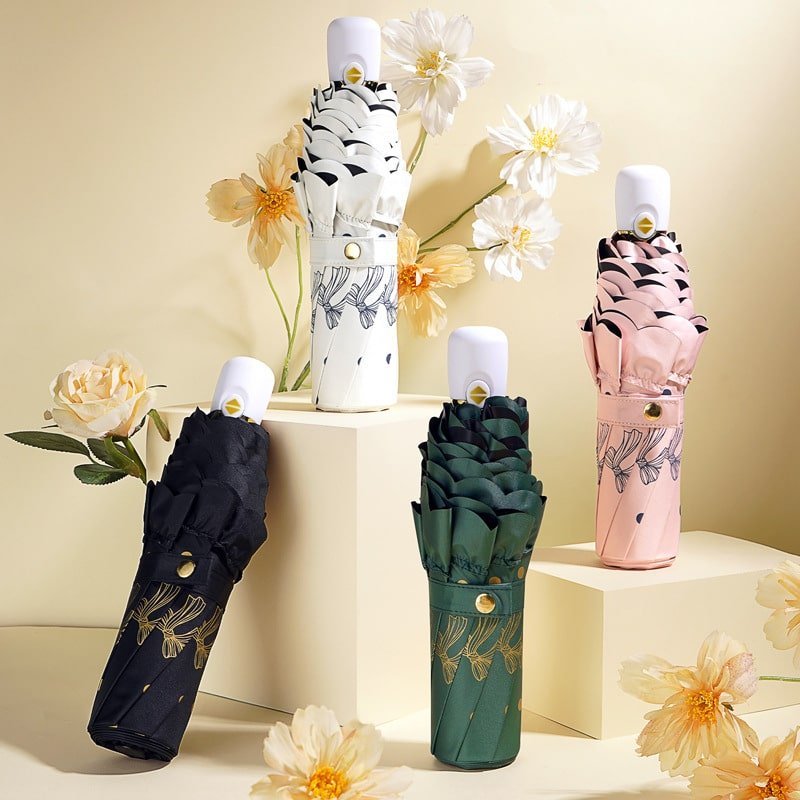 Building Brand Loyalty and Recognition
By gifting promotional umbrellas, businesses can create a lasting impression on their customers, which in turn strengthens their relationship with them.
When people receive something useful like an umbrella, they feel valued. This feeling of appreciation encourages positive associations with the brand.
Moreover, promotional umbrellas provide excellent exposure for businesses when used in public spaces such as parks or at outdoor events. The branding on these products will inevitably catch the eye of passersby and spark conversations about your business amongst potential new customers.
Additionally, by customizing the umbrellas to match your brand's color scheme and logo design, you increase visibility across various platforms while building a brand identity that stands out from competitors.
Promotional Items That People Actually Need
Businesses often struggle with choosing the right product that will attract their target audience when it comes to promotional items. While some may opt for flashy and gimmicky products, others recognize that practicality is key.
Promotional umbrellas fall under the category of practical products that people actually need. Umbrellas are not only useful in protecting individuals from rain and sun but are also versatile enough to be used on a daily basis.
By distributing branded umbrellas as promotional items, businesses can ensure that their brand gets exposure every time it rains or shines. As people carry these umbrellas around with them, they act as walking billboards for your business.
Moreover, giving away a high-quality umbrella shows customers that you care about their well-being and comfort. This gesture can go a long way in building brand loyalty and recognition among your target audience.
Cost-Effective Strategies That Work
Using promotional umbrellas as a cost-effective marketing strategy can be a smart move for businesses on a tight budget. Here are some strategies that can help maximize your investment:
Think about when the right time is to announce your promotion. Promotional umbrellas are very handy and visible when distributed during rainy seasons or during outdoor events.
Second, you can narrow your market by focusing on specific groups while designing your umbrella. For example, bright and fun designs may appeal to younger audiences, while designs that look more professional may appeal to older audiences.
Since more and more customers are concerned about the impact their purchases have on the environment, you should think about making your promotional umbrellas out of sustainable materials.
Versatility and Customization Options
There is a wide range of promotional umbrellas available. You're free to pick a design that fits your company's concept and the tastes of your ideal customers. For instance, if you want to promote a luxury company or line of products, you should choose an umbrella made of high-end materials like carbon fiber or wood.
Moreover, logos or slogans can be added to promotional umbrellas to make them stand out in the minds of buyers. Using this method of branding, you can increase brand recognition while also satisfying your clientele.
Furthermore, marketing umbrellas have a wide range of potential applications. They are ideal for sporting events and concerts held outside, where attendees may not have thought to bring an umbrella.
Businesses that provide promotional umbrellas with a variety of customization possibilities delight customers with a practical product that lasts considerably longer than conventional print ads while spreading brand awareness.
From Leads to Sales: Generating Business Opportunities
Potential consumers and clients will appreciate receiving a useful and practical item like a promotional umbrella. The favorable feelings people have toward your brand might be sparked by something as simple as this.
Offering something of value is essential when trying to get leads. Umbrellas are great promotional items because they are both functional and frequently utilized. They provide a lot of blank areas for you to put your own words on. As a result. you can advertise your business or message in plain sight.
Distributing promotional umbrellas can help you generate leads, but you need to follow up with those leads if you want to turn them into actual customers. Communicating with them demonstrates that you appreciate their time and interest in your company and are serious about developing a long-term partnership with them.
Customer Love: Strengthening Relationships That Last
Promo umbrellas can play a significant role in cementing your company's contact with its customers, which is crucial to its long-term success. And you can achieve so by providing promotional things like umbrellas that are both practical and of great quality.
Customers are more likely to remember the companies that provide them with personalized umbrellas as gifts.
This promotes brand loyalty by making customers feel special. Customers who receive free umbrellas are more likely to come back in the future when they have a need for products or services similar to those offered by the business.
Standing Out in a Crowded Market
It's not easy to make a name for yourself in today's competitive market. There are numerous brands competing for consumers' attention. So, it is essential for companies to differentiate their offerings in order to stand out.
For businesses that want to set themselves apart from the competition, promotional umbrellas are a great option. Businesses may leave a long-lasting impression on potential clients by having umbrellas imprinted with their logo or message.
Use eye-catching hues that complement your company's image. People are more likely to remember your company in the future if you use eye-catching colors.
One more strategy to stand out is to use cutting-edge designs that are in keeping with the spirit of your business. An umbrella with built-in solar panels and LED lights would be just the thing for a cutting-edge software firm.
Cooperating with other businesses or groups that share your goals is another great way to expand your reach. Promotional umbrellas used in a coordinated marketing campaign or event may attract many new customers.
Differentiating yourself in a saturated market calls for originality and forethought.
Types of Promotional Umbrellas
There is a wide selection of promotional umbrellas available, each with its own special characteristics and style.
The normal umbrella is the most common and is suitable for regular use. Umbrellas of this type are often characterized by a curved handle and sturdy construction that allows them to survive extreme weather.
The golf umbrella is another common form of promotional umbrella. These umbrellas are far bigger than the norm, making them perfect for use at outdoor events like golf tournaments. They typically have twin canopies for added protection from the elements.
Folding umbrellas are also available for individuals who need a more portable option. These can be folded up into a compact size and stored in a handbag or bag. They are convenient for usage in the event of sudden inclement weather.
There are additional specialist umbrellas that serve a particular industry or function in addition to the aforementioned varieties. Beach umbrellas, for instance, can be used to shield sunbathers from the rays, while patio umbrellas can shield diners from the heat.
When determining which kind is ideal, think about how big it is, how sturdy it is, how portable it is, and how attractive it is. There is a wide variety to choose from, so you can pick the appropriate slogan for your company.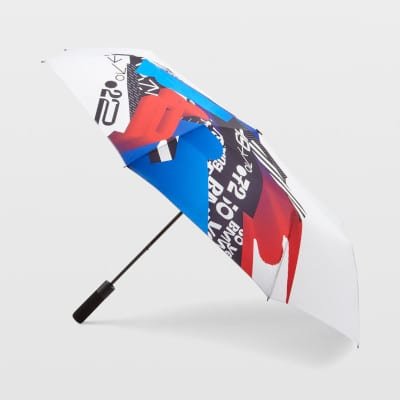 Strategies for Utilizing Promotional Umbrellas
In terms of marketing strategy, you have a lot of options. If you want your promotional umbrella campaign to have the most possible impact, consider the following tips.
When planning an outdoor event or trade show, consider employing custom-made umbrellas. This is both an effective means of advertising your company and a useful present that will be appreciated again and again.
You can provide branded umbrellas as part of a loyalty or incentive program. This not only boosts client loyalty but also increases brand awareness and favorability.
Umbrellas can be used as a corporate gift or as a free present to clients. If you run an online store, you may also provide them at a discount to your customers.
You may also team up with similar groups in your area to distribute branded umbrellas. You may increase your impact and strengthen ties to the local community by doing so.
When advertising your unique umbrella campaign, don't forget the potential of social media. Create hashtags and encourage users to post images of themselves wearing the new branded umbrella on social media channels like Instagram and Twitter.
Common Mistakes to Avoid When Choosing a Promotional Umbrella
Umbrellas are well-liked promotional items because of their widespread applicability. But if you pick the wrong promotional umbrella, you risk alienating your target demographic and throwing away your money.
When looking for a promotional umbrella, try to avoid making these frequent blunders.
A common mistake made by businesses is purchasing an umbrella made of subpar materials. The quality of the cloth and the frame of the umbrella determines how well it will hold up in the wind and rain. This will hurt your company's image and make customers reluctant to work with you again.
Another common blunder is picking an umbrella that has nothing in common with the company's values or its intended clientele. If you're trying to promote a high-end clothing line but your promotional umbrella has a cheap-looking plastic handle, that will run counter to your brand and dilute its impact.
Not thinking about customization could also cost you in terms of brand awareness. Branded umbrellas are more likely to be remembered by potential buyers and stand out in a crowded marketplace.
If you don't think about how long the goods will last, you might overlook things like wind-resistant features. This is wasteful of resources because of the high expenses of producing something that won't last very long
If you want your promotional umbrellas to provide a great impression of your brand and bring in a high return on investment, avoid these pitfalls.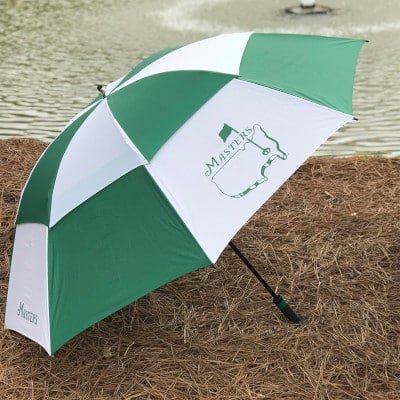 How to Choose the Right Promotional Umbrella
First, consider your intended market and the kinds of umbrellas they use most frequently. A tiny or folding umbrella, for instance, can be more convenient for your target audience of millennials.
The next thing to think about is the umbrella's durability. Sticking to your financial plan is essential, but so is picking an umbrella that will hold up well and represent your company well. Umbrellas should have sturdy frames (such as fiberglass or aluminum) and high-quality cloth.
Options for customization should also be thought about. Pick an umbrella that will help you stand out from the crowd by being easily personalized with your brand's logo or slogan.
And when it comes to fashion, pick something one-of-a-kind that will still look great years from now.
Don't forget to ask the manufacturer for their lead time and MOQs before ordering.
What Customization Options Are Available for Promotional Umbrellas?
When it comes to promotional umbrellas, personalization is key. Numerous resources exist to assist you in developing an umbrella that is an ideal embodiment of your company's values and ethos.
One common method of customization involves having the umbrella canopy printed with a brand logo or message. This is a simple but efficient method to raise brand awareness, particularly at large outdoor events.
You can also select your preferred canopy, handle, and frame colors throughout the customization process. Depending on the crowd size and nature of the event, you can select from a variety of umbrella shapes and sizes.
LED lights incorporated in the handle or distinctive designs printed on the canopy are just two of the many alternatives for individuals who want to make a statement.
Make sure the customization you pick fits nicely with the rest of your brand's visual identity and messaging. A promotional umbrella serves two purposes: protecting its user from the sun and making a memorable first impression on possible new clients. Make sure that your company's identity is reflected in the custom design in every way possible.
Some Examples of Using Promotional Umbrellas
Marketing with promotional umbrellas is a great way to make an impact that will last. But don't take our word for it; instead, let's examine some actual case studies and examples of achievement!
In order to help raise money for a local charity, some businesses provide promotional umbrellas at events. They can earn money for the cause and get their name out there by displaying umbrellas with their logo on them.
We see how promotional umbrellas were used to attract more people to an outdoor trade expo despite the rain. They protected people from the rain and got their name out there by giving out branded umbrellas.
When it rains, business owners often throw out free umbrellas as promotional items. These inexpensive yet thoughtful tokens of appreciation contributed to increased client retention and favorable word-of-mouth.
There are many examples like these. Your marketing objectives can almost certainly be met through the use of branded umbrellas.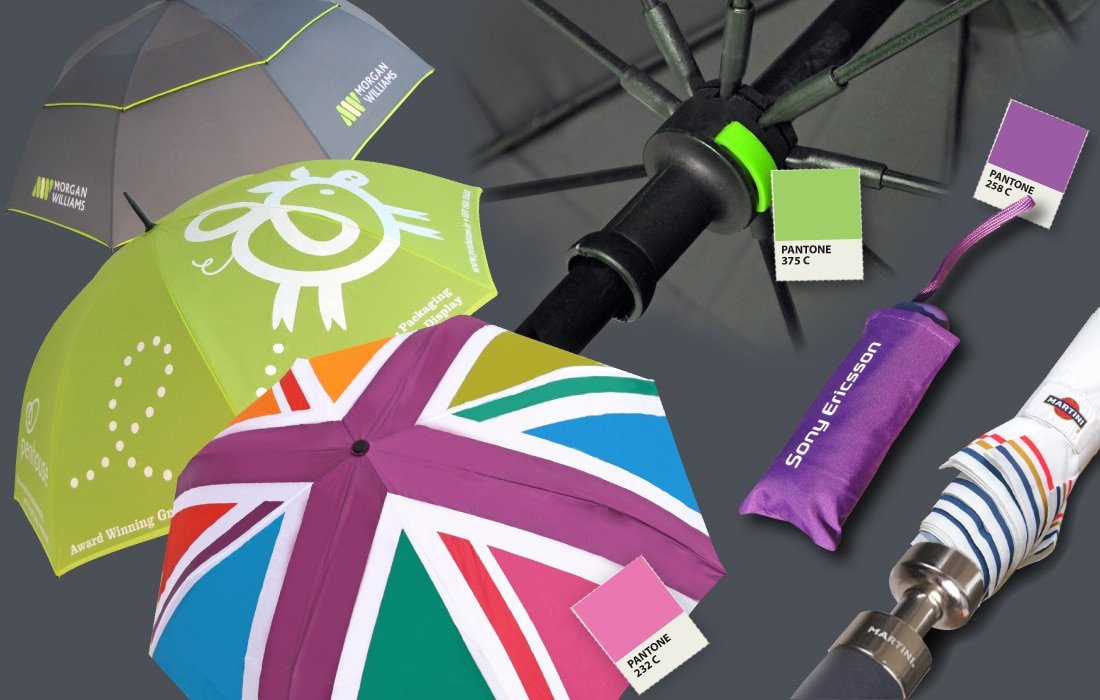 Why Hfumbrella is the best Promotional Umbrella Manufacturer in the Industry?
Hfumbrella first opened its doors in 1987. We have been making promotional umbrellas from the beginning of our company. We've worked with over 10,000 different brands all over the world.
We are in the business for over 36 years, and during that time, we have established ourselves as a reliable and innovative provider of high-quality umbrellas.
In addition to the United States, Canada, and Australia, we also ship to Japan, Korea, Europe, the United Kingdom, and several other countries.
The way we stand out among our competitors is our commitment to quality. We use only the highest-quality materials and cutting-edge manufacturing techniques to produce top-of-the-line umbrellas that are built to last.
We are the only company in China with a dedicated design factory with 10 digital printing machines.
You can count on us whether you need a quick turnaround on a little order or a large one. There is NO minimum order quantity required. We also guarantee timely delivery of your umbrella.
Our commitment to excellent service to our customers has also been important to our success. We pay special attention to every detail throughout the entire process, from the first consultation until the moment we hand off the finished product to the client.
You can personalize your order in a wide variety of ways with us, from the logo you choose to the colors you use and the types of handles you select. Because of this adaptability, companies of all sizes and across all industries may produce one-of-a-kind promotional goods that accurately represent their brand.
In comparison to similar manufacturers, we offer very reasonable prices. Our competitive prices and high-quality products and services make us an attractive choice for businesses trying to cut costs without sacrificing functionality or aesthetics.
We provide a free trial as well. Get a free sample or an instant price quote for any imaginable job with only a few clicks. You can reach out to us by sending an email, and a member of our staff will get back to you as soon as possible.
Conclusion
So, there it is. Now you know everything about promotional umbrellas. They are excellent marketing tools for any business. You can use these umbrellas for advertising or creating a long-lasting effect on people's minds.
If you have any project in mind or want to know deeper about the quality and purpose of promotional umbrellas, send us a message. Our team of experts will contact you soon and will assist you with whatever query you have.