Are you in need of an affordable yet very efficient method of advertising your company?
Advertising umbrellas make it simple to spread your message in any weather condition. These umbrellas will protect your customers from the elements on wet or sunny days while also freshly showcasing your brand.
If you want to make an effect on your target audience that will last, incorporate an advertising umbrella into your campaign approach.
We will discuss the top 10 benefits of using advertising umbrellas here. Also, we will try to give you some tips on how to use advertising umbrellas smartly. Let's dive in.
Benefits of Using Advertising Umbrellas
Benefit 1: Cost-Effective Advertising
Cost-effectiveness is one of the main benefits of using advertising umbrellas. Unlike billboards or television ads, advertising umbrellas only requires a one-time investment but can generate lasting brand awareness.
You can minimize marketing budgets by initially spending more on high-quality, long-lasting promotional umbrellas. These promotional items are great for outdoor events because they are durable and require little upkeep.
In addition, these umbrellas' portability reduces the need for businesses to spend money on numerous advertisements by reaching more people. Small businesses wishing to promote their brands on a tighter budget will also find advertising umbrellas to be an excellent choice.
Benefit 2: Increased Brand Visibility
Increased brand recognition is one of the primary benefits of using advertising umbrellas for your company. These promotional products are perfect for attracting attention to your company because of their size and appearance.
Your brand or message will reach more people with the help of advertising umbrellas. Advertising umbrellas are a common sight at outdoor events, at busy intersections, and even in front of businesses.
Advertising umbrellas will help people remember your company when they need your products or services. Potentially increasing sales and customer loyalty.
Having your brand out there more often also increase trust. Customers will have more faith in your business when they see your brand name or slogan displayed prominently in public places.
Investing in high-quality advertising umbrellas could be the best way to rapidly increase brand recognition and client interest at a low cost.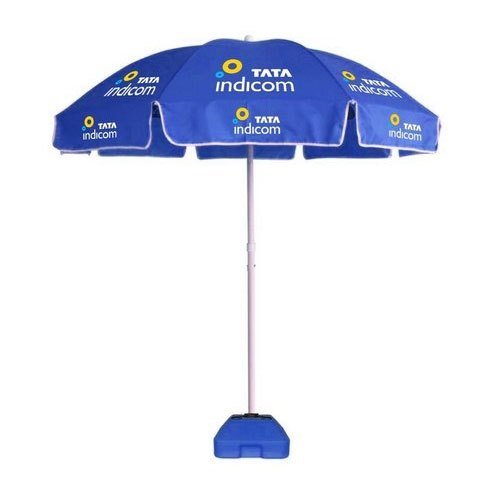 Benefit 3: Targeted Marketing
Advertising umbrellas are widely used because of their efficiency as a targeted advertising technique. Businesses may reach their ideal customers by tailoring the designs and messaging printed on the umbrella's canopy to the area in which they operate.
Using colors and images that are associated with that demographic is a great way to reach out to them. Use vivid hues and cartoon characters, for instance, to draw attention to a family-friendly eatery.
Location-based advertising is another method of narrowing your marketing focus. Your chances of contacting potential clients will increase if you put up ads in places where they congregate, including parks and beaches.
The use of advertising umbrellas presents a one-of-a-kind chance to specifically target specific events. If you run a company that plans weddings, for instance, you can reach out to couples who are in the market for your services by distributing branded umbrellas at outdoor ceremonies.
Companies may maximize their return on investment (ROI) and reach their target demographics with targeted marketing using advertising umbrellas.
Benefit 4: Customizable Design Options
Design an umbrella that speaks words about your company by customizing its color scheme, pattern, and style.
To further promote brand awareness, you can have your company's logo or phrase printed on the umbrella's canopy. People will be more likely to remember your brand if they need your products or services.
The advertising umbrella's style and feel may be modified to fit your brand's identity and your marketing goals. If you know your audience consists of, say, only kids or only sports fans, you can tailor the design to reflect that.
Another advantage of customizing your advertising umbrellas is that they become unique promotional tools that stand out from other businesses' advertisements. Your customized advertisement will be more memorable than any standard one because it reflects who you are as a company.
Benefit 5: Portable
Advertising umbrellas are highly mobile and can be easily transported from one location to another, making them a perfect tool for outdoor promotional events.
When you invest in advertising umbrellas, you can take your brand message to various places such as trade shows, sports events, festivals, or anywhere else where potential customers gather. You can simply set up your branded umbrella at a high-traffic location and watch as people flock toward it.
Moreover, unlike other forms of marketing tools that require heavy machinery or equipment for transportation, advertising umbrellas are lightweight and easy to carry around. This feature makes them an ideal option for businesses that frequently change their locations or have limited space in storage facilities.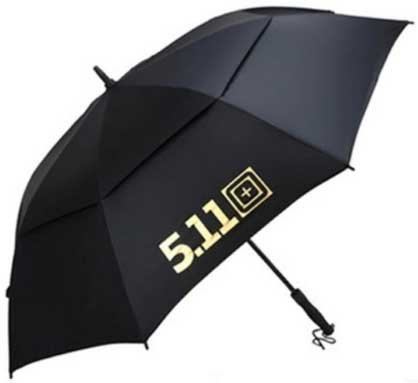 Benefit 6: Weatherproof
Advertising umbrellas' sturdy frames and top-notch materials make them reliable in any weather. They safeguard consumers and maintain the visibility of your advertising.
Promoting your business with umbrellas guarantees you'll get your message out no matter what the weather's like. The more often your advertisement appears, the better your chances of turning viewers into buyers.
Benefit 7: Long-Lasting Impression
You'll be doing your consumers a favor by offering them something they can use over and over again with your rain or sun protection umbrella. As they walk around with the umbrella, people will be able to view your logo and spread the word about your company.
An advertising umbrella might save you money in the long run when compared to other forms of advertising like web adverts or billboards due to its durability. While the investment in these more conventional strategies is ongoing, the investment in an umbrella is one-time only and yields a significant promotional benefit.
Benefit 8: Interactive with the Audience
Advertising umbrellas provide a one-of-a-kind chance to engage with customers and leave a lasting impression. Using branded umbrellas is a fun and creative approach to communicating with potential customers at events and on the go.
Here are some creative approaches to engage your target audience and win them over as customers.
You set up an umbrella-painting station, where customers may personalize their very own umbrella with your brand's artwork.
People will be more likely to see your brand when they walk around with their customized umbrellas after participating in this activity.
An umbrella dance-off, where umbrellas are used as props in a choreographed routine, is another fun idea. Such an event creates memorable moments that people will want to talk about on social media and draws attention to your brand.
Advertising umbrellas have further potential as prizes for events and giveaways. Through the usage of promotional canopies, you can give customers an enjoyable and unforgettable interaction with your business.
Benefit 9: Ecofriendly Promotional Tool
Because of the growing environmental consciousness in the world, it's crucial that companies include eco-friendly policies and methods in their daily operations and promotional activities.
Advertising umbrellas manufactured from recyclable materials can reduce landfill waste and carbon emissions. Because of how long they endure, they don't need to be replaced as often, which helps cut down on waste.
Eco-friendly advertising umbrellas also demonstrate the company's dedication to environmental and social responsibility. You may show your customers that you care about the environment while also boosting brand awareness using this strategy.
As an added bonus, consumers who appreciate businesses that are devoted to sustainable practices are more likely to see brands that use eco-friendly materials favorably. Customers will get a sense of your company's commitment to sustainability when they notice that branded things like advertising umbrellas are made from recycled materials.
Benefit 10: Easy to Store and Transport
One of the reasons why advertising umbrellas are so easy to store and transport is that they can be compacted into a smaller size when not in use. Many models can be collapsed down into a carrying bag, making them simple to pack away until the next event.
Additionally, most advertising umbrella frames are made from lightweight materials such as aluminum or fiberglass which makes them easier to move around. The canopy fabric itself is typically made from durable polyester or nylon material that can withstand the elements without being too heavy.
Another advantage of advertising umbrellas is that they don't require any special tools or equipment to assemble. Most models come with an easy-to-follow manual that outlines the steps needed for setup and breakdown.
The ease of storage and transportation makes advertising umbrellas an ideal choice for businesses looking for a versatile promotional tool that can be used both indoors and outdoors without taking up too much space when not in use.
Types of Advertising Umbrellas
Here is the list of advertising umbrellas that you can use for different purposes:
Classic Stick Umbrellas
Market Umbrellas
Automatic Umbrellas
Remember, these are just the types. You can choose different materials, styles, and customization options to make the umbrella fit for your reasons.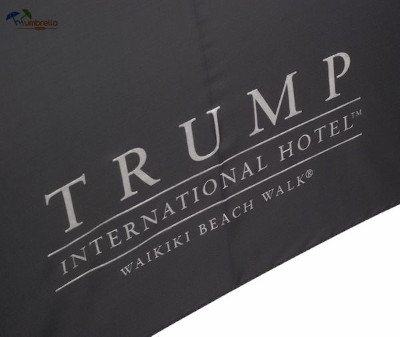 Tips for Using Advertising Umbrellas for Best Results
It's crucial to have a deliberate strategy when making use of advertising umbrellas. Here are some suggestions for making the most of promotional parasols.
Think about the setting in which you'll be employing the umbrella. Will it be at a public venue or someplace outside of your establishment? The dimensions and shape of the umbrella will depend on this.
Make sure the logo is large and easy to read on the umbrella. Your brand and message should be large and immediately discernible from a distance, as this may be the only time a potential consumer sees the umbrella.
Put color to good use! Pick hues that mesh with your brand's aesthetic or use your imagination to come up with a unique color scheme to set you apart.
Choose a sturdy material that won't break under the weight of the wind and rain. Your investment in promotional umbrellas will be protected by a material that stands the test of time.
Position them carefully! Choose highly visible spots, such as intersections or populated public spaces like parks, to spread your message far and wide.
These guidelines can help you get the most out of your advertising umbrellas and increase your return on investment.
How to Choose the Best Advertising Umbrella for Your Business
Choosing the perfect advertising umbrella for your business can be a tricky decision, but it doesn't have to be. When choosing an advertising umbrella, there are several factors you should consider to ensure that you get the most out of your investment.
Think about the size and shape of the umbrella. Consider where it will be used and what areas need shading from rain or sun. A larger canopy provides more visibility while a smaller one may be easier to transport.
Choose an umbrella that matches your brand's colors and style. This creates consistency in branding which is important for creating brand recognition.
Consider how easy it is to assemble and disassemble as well as its weight if transportation is required frequently.
Take into account additional features such as wind vents or UV protection which increases durability while providing added value for customers during adverse weather conditions.
Ask the manufacturer about their lead time and MOQs.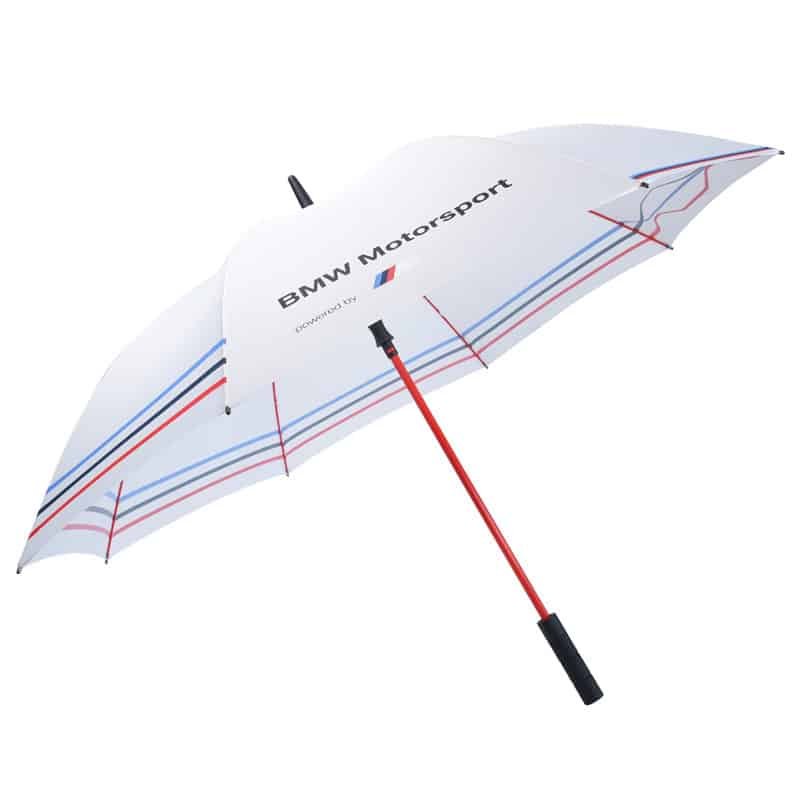 Case Studies of Top Brands
Coca-Cola uses branded umbrellas during outdoor events to promote its brand and products. The colorful and eye-catching umbrellas not only protect customers from the sun but also acted as a walking advertisement for the brand.
Another successful case study is that of Heineken, which uses custom-designed umbrellas with built-in LED lights to grab attention at night events. These unique and interactive umbrellas not only increase brand visibility but also provided a memorable experience for customers.
Similarly, McDonald's uses advertising umbrella stands outside their restaurants to attract potential customers passing by.
These are some examples. But you will see advertising umbrellas at any public gathering you go to. So, if you already have not used this advertising technique, you are missing a wide range of people from knowing your brand.
Why Hfumbrella is the Leading Advertising Umbrella Manufacturer
Hfumbrella has spent the last 36 years perfecting the art of making advertising umbrellas of the highest quality and durability. Our knowledge and experience guarantee that our goods will serve their intended purpose, last for years, and look great.
We use only the best materials from trusted sourcing agents for manufacturing umbrellas. This attention to detail extends from the umbrella canopy to its handle and frame which is built with robustness and quality in mind.
Hfumbrella provides its clients with customization options that allow them to create an umbrella design that aligns with their brand's image and messaging. We are the only company in China with a dedicated printing factory with 10 digital printing machines.
Our client list has over 10 thousand global brands all over the world. Some of the countries that we have excellent connections with are the UK, USA, Australia, Japan, Canada, etc.
We have a dedicated team of experts to check the production quality of your advertising umbrellas. Our Quality control team check umbrellas in the various production phase. They run a final test before shipping so that you get the best quality product.
We deliver umbrellas fast with the help of our 3 factories and skilled workers and we don't have any MOQs.
Customer satisfaction is at the forefront of all operations at Hfumbrella- from product design through production – ensuring clients receive top-notch service before and after purchasing from us.
FAQs on Advertising Umbrellas
Can advertising umbrellas be used indoors?
Yes, advertising umbrellas can certainly be used indoors. They are great for trade shows, exhibitions, and other indoor events where you want to attract attention to your brand.
How much does an advertising umbrella cost?
The cost of an advertising umbrella varies based on factors such as size, material, and customization options. However, they are generally a cost-effective marketing tool that offers high ROI.
Are there any restrictions on using branded logos or graphics on my custom-made promotional umbrellas?
There are no standard limitations on including branded logos or graphics on advertising umbrellas. However, it is crucial to make sure you have the required permissions for any branding or images you use in your promotions.
Conclusion
Here are the top ten reasons why we think advertising umbrellas are a good idea. Advertising umbrellas are a smart and economical method of brand promotion.
It's important to pick an umbrella that fits your business's demands and the demographics of its customers. Use your imagination when employing them for the best results.
Hfumbrella is one of the top advertising umbrella producers in China, providing premium bespoke promotional umbrellas for businesses. Get in touch with us right away if you want to learn more about how we can help you leverage this effective advertising medium.