Description
Introducing Our Environment-Friendly Solution: The Drip-Free Umbrella Dryer.
Say goodbye to dripping umbrellas and the need for plastic bags with our innovative product. We are thrilled to present a new and environmentally conscious concept that effectively tackles the issue of wet floors on rainy days. With our Drip-Free Umbrella Stand, all you have to do is run your wet umbrella along the inside of the unit, and the microfiber pads will quickly absorb the water, collecting it in a container at the bottom.

Key Features:
Available in a sleek Grey or black finish.
Aids in protecting the environment.
Eliminates the need for disposable plastic bags.
No electricity is required for operation.
Magnetic pads are designed for easy drying.
Convenient water container for effortless emptying.
Equipped with wheels for effortless mobility.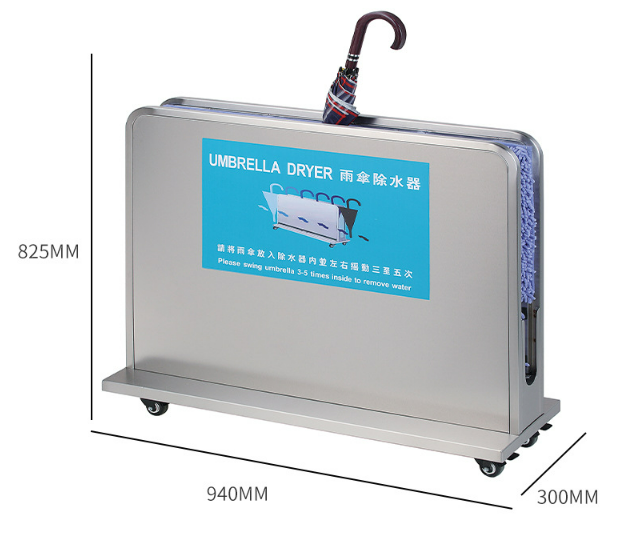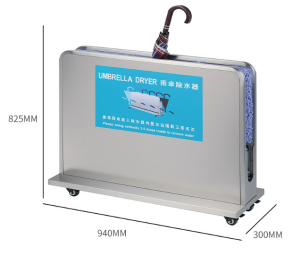 How it Works:
When a visitor enters with a wet umbrella, they can rub it along the inside of the unit. The microfiber pads, held securely by magnets, efficiently remove the water from the umbrella, allowing it to drain into the container at the bottom. This container has a generous capacity of up to 8.5 liters.
Our product includes four high-quality, fast-drying microfiber pads that easily attach to the inner walls of the unit using magnets. These pads can be removed for drying on the outside of the unit, ensuring their readiness for future use. Additionally, the umbrella stand is equipped with wheels, making it effortless to store and conveniently move to entrances during wet weather.
Choose our Drip-Free Umbrella Stand to keep your floors dry while contributing to a cleaner and greener environment.