Description
Chinese Peony Painter Master Water Painting Umbrella For Sale
China does not have an "official" national flower, but the tree peony can be regarded as a national favorite. The tree peony (mudan) received the most votes in a survey conducted in 1994 in every district in China asking people to select a National Flower – a high honor for the peony in a country that loves flowers.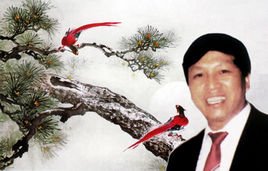 Tian Tao Cai
Tian Tao Cai, Chinese artist. Member Chinese Artists Association, Professional Painters Research Institute Arts and History, Chinese Liberal Arts Alliance Association.
Rainy days no longer have to be so dull and gloomy. Huifeng umbrella gift creative Folding Umbrella will cheer you up in any dismal weather. Made from sturdy steel and quality waterproof cloth, the umbrella is highly durable and capable of withstanding strong winds and rains. The umbrella is also great to use on sunny days, as it protects your skin from those burning UV rays.
Fashion Unique Art Oil painting umbrella Sun Rain Protection
100% Polyester, 3-section folding, Strong metal ribs and rigid center pole
Size: Medium. Fold length: 24 cm. Umbrella height: 55 cm.
Protects you from downpours and UV rays alike. Fashion and romantic pattern.
Strong metal ribs and rigid center pole, unbreakable durable fiberglass ribs
Use for: rainy day, sunny day, photography.
Collapsible-style handle allows for instant open-and-close, while the handy wrist strap makes it easy to tote.