Getting umbrellas should not be a financial threat to anyone. At the same time, getting a premium quality product should not be a luxury. It is, however, not the case anymore in today's world of the market, where affordable umbrellas signify quality and expensive umbrellas signify premium quality products.
Generally, the innumerable amount of low-quality umbrellas in the market today has made getting premium quality products at an affordable rate mutually exclusive. This may be true, but those who did not research the most reliable umbrella manufacturers. Why? This is because there are a few umbrella manufacturers that build umbrellas from scratch for the most affordable price you would find for a high-quality product.
The features an umbrella comes with define the durability, functionality and other premium-defining quality in the umbrella. If you take a close look at these features, you will discover that these features primarily sts from the place it was built. The umbrella manufacturing industry is precise. There are various umbrella manufacturing companies today, so are the numbers of features or parts make up an umbrella. But before we discuss the source of an umbrella's quality, the features that define the quality of an umbrella must be brought to light.
Features Of A Premium Quality Umbrella
Generally, the number one purpose of an umbrella is to protect the user from discomfort during rainy and sunny days. Meanwhile, it is vital that this umbrella last to perform its purpose without damaging in the process of protection. But among every ten umbrellas, only one or two will be able to fulfill their purpose without damaging on windy days.
The non-lasting quality of an umbrella solely stems from the materials used in its creation. Hence, it will be advisable to pay attention to the parts of an umbrella and ensure they are of the best qualities before purchasing them. The various essential parts to look out for when you desire to purchase high-quality umbrellas include the following:
The canopy
The ribs
The shaft
The rivet
The handle
The design
The Canopy
The number one purpose of an umbrella, as said earlier, is to protect its user from the discomfort they may experience on rainy and sunny days. The canopy is the part of the umbrella that ensures this purpose. Hence, It is one of the essential parts of the umbrella. The canopy must, however, be large enough to keep the user dry on rainy days and comfortable on sunny days.
Although the size of the canopy matters, the fabric used for the canopy is an essential factor that defines how much sun and rain the umbrella can prevent. The umbrella must be waterproof to keep the user dry, and it must have ultraviolet blocking properties to shade you from the sunlight. The canopy of an umbrella is mostly designed with three main types of fabrics and include; nylon, pongee, polyester and PVC fabrics.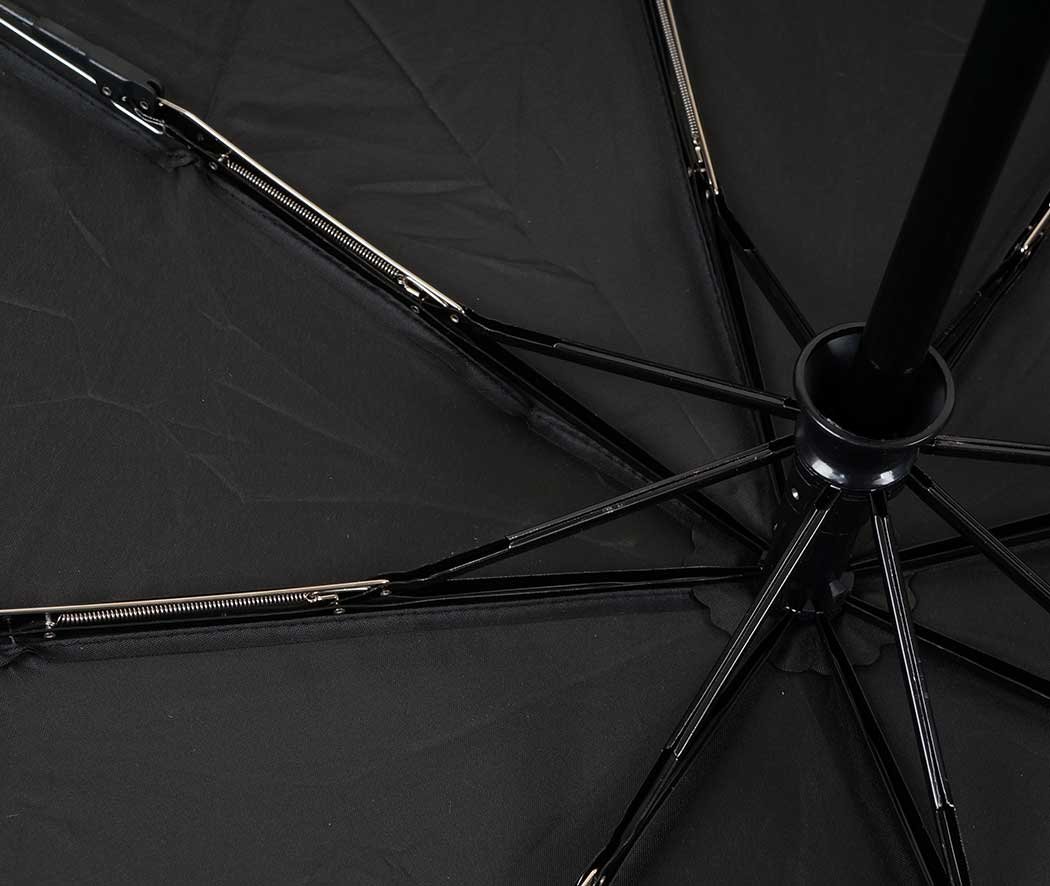 Umbrellas With Canopy Made Of Nylon
This kind of fabric is often used due to its mildew and mold-resistant properties. They are also designed to be waterproof; hence, it will keep their users dry on rainy days.
Umbrellas With Canopy Made Of Pongee
Pongee fabrics are resistant to mold and mildew, and they are also water-resistant fabrics. However, some umbrella factories prefer them due to their soft feel suitable for bringing out the attractiveness of the printings or designs made on the canopy.
Umbrellas With Canopy Made Of Polyester
Polyester fabrics are mostly used in the world of fashion due to their waterproof property and its ability to hold designs without fading. Hence, the design and printings will not fade away irrespective of the number of times you use it on rainy days. The polyester fabric is arguably the best fabric for keeping designs stuck for an extended period without fading on rainy days. It is also popular for drying quickly.
Umbrellas With Canopy Made Of PVC
The polyvinyl chloride (PVC) fabrics often used for the canopy of umbrellas are clear or see-through. The see-through feature is one of the various aesthetic features that compliment the beauty of an umbrella.
Generally, polyester and pongee fabrics are the preferable fabrics often used for the construction of an umbrella. It is, however, advisable to choose the higher thread count or density that defines the durability and softness of the umbrella. Most umbrellas are often constructed with a 190 thread count, while a few are made of 200 to 300 thread count. The higher the thread count of the fabric, the greater its durability. Hence, going for a 200 to 300 thread-count fabric is an excellent choice.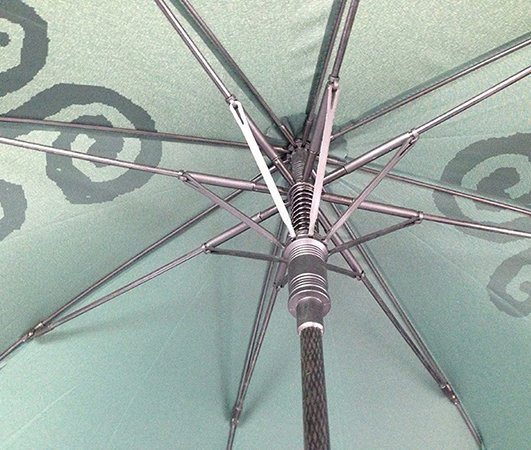 The ribs and stretcher
When an umbrella breaks inside out, it is often the ribs. And this occurs only during windy days. To avoid this experience, this part of an umbrella must be built to be flexible and rigid at the same time. The ribs that make up an umbrella are the six to eight spokes you will find attached to the shaft in the umbrella. They are made of different materials like steel, aluminum and fiberglass, but fiberglass is the most suitable.
If the ribs are built with fiberglass material, they will be flexible on windy days without breaking. The ribs will also be free from corrosion or rust, and this will contribute to their durability. Therefore, going for umbrellas whose ribs are built with fiberglass will save you the chunk of money you'd spend buying new umbrellas after every windy day.
The shaft
The shaft is the center pole of umbrellas. Although it is not exposed to breaking like the ribs, it is also a significant part of an umbrella that determines the quality of the umbrella. A shaft built with the wrong material and lightweight can not withstand gusty winds without holding it with both hands above your head.
The shaft can be made of different materials, such as wood, steel, aluminum and fiberglass. These materials are rust-free and can be used for building your umbrellas, depending on your choice of the shaft. You can use anodized aluminum if your choice of the shaft is the one with light and durable features. Meanwhile, the best material options for a shaft are fiberglass and nickel-plated steel shafts due to their durability properties.
Furthermore, you should consider building your umbrellas with fiberglass shafts if durability is what you seek. Everyone desires longevity; hence, fiberglass is the most suitable umbrella shaft material.
The rivet
The rivet is commonly known as the rooftop of the umbrella. Although many people don't count it as a significant feature, it is an essential feature that contributes to the quality of the umbrella. Generally, umbrellas often have hollow kinds of rivets, but they are not rust-free; hence, they weaken and break easily. Meanwhile, with copper rivets, the umbrella will not be exposed to water damage because they are rust-resistant.
Lastly, paying attention to the rivet your umbrella comes with is essential if you need a durable product. Durability is the quality many people gamble on with other features. But little did they know that without durability, the features they focus on will not last for the extended period they want.
The Handle
The handle of an umbrella must be easy and comfortable to hold when wet—this is the quality of a good umbrella handle. An umbrella's handle can be made with plastic, wood, aluminum and rubber, among which the rubber and plastic materials are mostly used for umbrella handles.
There are different varieties of plastic and rubber used for the handles of umbrellas. The plastics often used are those with a matte finish and shiny finish. If you, however, decide to get a rubber-handled umbrella, ensure it is a solid rubber rather than rubber coating or spray on plastic handles.
Make sure you choose an umbrella handle that will be easy to carry, especially for users with other loads to carry with the other hand. This type of umbrella handle will make it easy for them to hold their umbrellas up without altering the angles of the canopy that will keep them and their loads dry on rainy days.
The Design
This is the most sought-after factor considered when buying umbrellas. We are in an age where fashion reigns and every outfit is now made to match bags and shoes. This also includes umbrellas, and they come in a variety of designs to complement the gorgeous outfit of the user. Meanwhile, the chance of you buying a low-quality umbrella is almost certain if you put aesthetics over quality. The market has made the purchase of aesthetics and quality mutually exclusive. Meanwhile, it is not general because there are some umbrella manufacturers that build their products to be fashionably attractive and durable at the same time.
The Influence Of Quality On The Price Of Umbrellas
Generally, the main factor that influences the cost of umbrellas is their quality. The raw materials used for their construction play a significant role in their cost. Premium quality umbrellas are built with the features listed above with durability and functionality; hence, they often cost more. Meanwhile, low-quality umbrellas are affordable, but how can you identify a premium quality product? The "features of premium umbrellas" discussed above gave the best explanation.
In today's market, the cheapest products are believed to be made of low-quality materials. This is a misconception that makes people empty their wallets on a particular product. The only way to purchase premium quality products at an affordable rate is when you purchase them in bulk. Meanwhile, buying in bulk is also expensive if you do the calculations on each product, especially if it is a premium quality product.
This is, however, not a general rule in getting premium qualities because there are some umbrella manufacturers that offer premium quality umbrellas at an affordable rate. Meanwhile, you should be ready to search for such a manufacturer.
It is a challenging task to discover a durable umbrella with an attractive design. You either find a fashionably attractive umbrella without durable features or the other way around. Most attractive umbrellas are low-quality products, but it is not a general principle because there are some exclusions. Since the characteristics of an umbrella define its price, the manufacturer is the source of the cost of umbrellas.
Lastly, the cost of purchasing umbrellas with premium quality features should not be expensive. You should, however, not settle for low-quality umbrellas because of the fear of emptying your wallet. There are some manufacturers like Huifeng Umbrellas that offer their products at the cheapest rate you will find in the market. Working with Huifeng Umbrellas for the manufacturing of your umbrellas will provide you with the premium quality you seek at an affordable rate.
Umbrella Manufacturers That Offer Premium Quality Umbrellas With Minimal Cost
There are various umbrella manufacturers that offer their products at a luxurious price. Their expensive products often push people to settle for low-quality products. Purchasing umbrellas should, however, not be a factor that alters people's financial buoyancy. However, it is difficult to find any umbrella manufacturer that offers its products at an affordable rate. One of these very few reliable manufacturers is Huifeng Umbrellas.
Huifeng Umbrellas is an experienced manufacturer of premium quality umbrellas. We offer all kinds of umbrellas to meet our clients' requirements in design and aesthetics. Although many people believe aesthetics and durability are mutually exclusive features, Huifeng Umbrellas have proven such claims wrong with the products we offer.
Although a few manufacturers offer attractive and durable umbrellas, they are often expensive. Meanwhile, Huifeng Umbrellas are famous for manufacturing umbrellas at the most affordable price you will find for a premium quality product in the market.
Businesses often have an umbrella design idea to portray the quality of services they offer. They can not find this in a factory that only offers ready-made products; you will only be able to meet your desire by working with a manufacturer like Huifeng Umbrellas. What does this mean? It means you should work with Huifeng if you want to get premium quality umbrellas for your business without emptying your wallet.