For people living in windy climates, umbrellas offer little protection from the rain. The effort of keeping your umbrella from being blown by the wind or even broken far outweighs the benefits of a little rain protection. With that in mind, a few companies specialize in windproof umbrellas, which promise to keep you cozy and dry—no matter how strong the wind is blowing! So what is a windproof umbrella, how does it work, and where can you buy a great one? This quick and easy buying guide will tell you everything that you need to know about them!
1. What is a windproof umbrella?
2. How does a windproof umbrella work?
3. What is the difference between a vented & an unvented umbrella?
4. Best windproof umbrellas for 2020
5. How to choose a windproof umbrella manufacturer
What is a Windproof Umbrella?
A windproof umbrella is an umbrella that has been designed to remain open and to avoid breaking when strong winds are blowing. It is generally made of good quality, sturdy materials that can remain intact even in a storm. Although the level of protection that windproof umbrellas offer varies, they are generally able to withstand winds up to 50 miles/hour. Those umbrellas are usually more expensive than traditional ones because of the materials they use, although it is impossible to find one for a reasonable price.
How Does A Windproof Umbrella Work?
First of all, windproof umbrellas avoid getting broken by the wind because they are made of sturdier material. While a traditional umbrella stick may be made of flimsy metal, the stick of a windproof umbrella is generally thicker, heavier, and made of a denser metal that doesn't bend or break. Parts that are particularly fragile, such as joints, are usually covered in tempered steel, which makes them extra durable.
Secondly, windproof umbrellas avoid getting blown by the wind by allowing some wind to circulate. Whereas regular umbrellas, when open, offer a complete barrier from the wind, windproof ones have small vents that let a bit of wind go through. While this may seem counterintuitive, this is the best way to protect yourself from the wind. Think about it: blocking the wind completely creates a lot of pressure, and eventually, the wind is sure to win. With their vents, windproof umbrellas have a lot less pressure and are more flexible, meaning that the wind won't break them.
What is the Difference Between a Vented and Unvented Umbrella?
Windproof umbrellas are generally vented, which is how they are capable of protecting from the wind. A vented umbrella will generally possess a second, interior canopy with small vents. This lets wind go through and break down inside of the umbrella, releasing a lot of pressure. The second canopy on top of it serves to offer full rain protection.
An unvented umbrella generally only has one canopy. Because this canopy is supposed to offer complete rain protection, it is entirely devoid of holes. As a result, wind can get caught in the umbrella, leading it to take off, get broken, or otherwise malfunction. That being said, some windproof umbrellas are ventless and still designed to hold up against the wind. This is generally because they incorporate other solutions, like reinforced joints, sturdier materials, and a more ergonomic shape.
Best Windproof Umbrellas for 2020
Stylish, durable-looking windproof umbrellas exist in variations and are easily accessible. Here are 15 of the best windproof umbrellas you can source from anywhere in 2020.
1. The GustBuster Metro Windproof Umbrella
This beautiful, all-black umbrella is large, comfortable, and remarkably sturdy. Equipped with all the technology mentioned above, it possesses a double canopy, unique air vents, and temper-hardened steel parts, making it resistant to almost any wind. This particular model works on winds up to 55 miles/hour!
We love this one because it can open automatically, a simple addition that makes us feel like secret spies. Additionally, it has won numerous awards for design and is used by golf players worldwide who know their style. It utilizes double canopy technology to navigate the wind currents and possesses a handle that guarantees a firm, soft grip. It also has a double sheath that can comfortably fit into a backpack. Comfort and portability? Yes. 
2. Himalaya Windproof Travel Umbrella
This light and inexpensive model is one of the best travel umbrellas you can get against the wind. It has ten reinforced ribs made of reliable material and has been tested on winds up to 60 miles/hour. It boasts a non-slip rubber handle with a built-in bottom that requires just a click to open and close the umbrella. This way, no rain gets in. Also, it has a high steel grade shaft, guaranteed to bolster up the ribs and offer a buoyant coverage to the holder. While it doesn't have the vent system that the bigger (and more expensive) windproof umbrellas usually have, it holds up very well, as evidenced by the lifetime guarantee from the manufacturer's offer. What more could you want? 
3. G4Free Automatic Windproof Golf Umbrella
This umbrella by G4Free is large, heavy, and comes in a beautiful array of colors, from white to pink to light blue. As well as being fully automatic, it is a real family model with a 68-inch canopy. This means that with this umbrella, at the very least, two people can comfortably stand under it. What's more, it has a non-slip foam handle, a 210T pongee fabric that makes it water-resistant while being lightweight. Additionally, the material has an SPF of 50. You defy the wind and rain, but you are also safe from the harmful UV rays! Its shaft is coated with a black resin material that makes it sturdy. Finally, its double-canopy design with a vent system and fiberglass frame makes it able to resist even the strongest winds.
4. Bagail Double Layer Inverted Umbrella
This windproof umbrella has a rare feature we haven't discussed yet. That's right; it is invertible! Picture being able to wring your umbrella inside out to let out the water. In designing this umbrella, a feature was added to establish balance, these umbrellas are made with amazing designs on the inner layer. From cloud patterns to whorl, spirals, and a colorful summer motif, there is always something for you. 
Its carbon fiber skeleton prevents rusting, and its pongee fabric has zero light transmission. This quality protects you against UV rays with a UPF of greater than 50. Interestingly, it is also hands-free, which is excellent for mobile phone users and childcarers. Its C shaped handle can be hung on your wrists or elbow while you continue your activities. Awesome, right?
5. EEZ-Y Windproof Travel Umbrella
This umbrella has a compact, double bent, which makes it a durable, reliable windproof umbrella. It has a button for easily maneuvering the open and close feature, and you can get it with a little under $20. 
It can fold to about 11 inches, making it in your backpack or held as an accessory. Its pastel-colored variations are a beauty to behold. Whether you are going on a vacation, a golf course, a meeting, or a restaurant down the street, the EEZ-Y windproof umbrella is an easy-to-purchase shield against nature's forces. Finally, the brand runs a 24/7 support and a guaranteed replacement scheme. 
6. Totes Clear Bubble Windproof Umbrella
Don't we all love a crystal transparent, natural material that reminds us of fresh beginnings? This quality is what the Totes Clear Bubble Windproof umbrella has to offer. Its translucent nature allows you to wear any clothing of your choice and exudes an aesthetic appeal. With a 51 inch canopy, you are protected from the elements, and with its translucent synthetic material, you can easily avoid bumping into people on the street.
7. The Davek Solo
The dark single windproof umbrella is for those ready to invest in longevity—tired of the cheap umbrellas that break down with any slight gust of wind? Try out this windproof umbrella. At a $115 price tag, it boasts of tightly woven microwave fabric that is water-resistant. Additionally, it comes with a clip that can be attached to your belt. With its frame system composed of high-grade steel, aluminum, zinc, and fiberglass, you are guaranteed durability. The most significant perk, however, has got to be the insurance. Every dark solo comes with a unique serial number. With this number, you can procure a new davek solo replacement at 50% off if you misplace the first. Excellent deal, yes?
8. Repel Windproof Umbrella
The Repel windproof umbrella is your best bet for a reliable travel buddy. It is lightweight (less than 1lb), made up of Teflon waterproof material, foldable, and a slip-on for concise packaging. Suppose you are familiar with the frustrations of having your umbrellas turn inside out. In that case, the Repel windproof umbrella is here to prevent that experience with its nine resin-reinforced fiberglass ribs. In 2019, it was dubbed by Wirecutter as the best umbrella.
9. Stealth Fighter Windproof Umbrella
This umbrella is not only windproof but also storm proof. With its jet-like shaped appearance, you are reminded of something sleek and formidable. It has a delta-shaped canopy, a fiberglass frame, and a handle coated in rubber. It has been tested on wind speeds of about 60mph. If you love a dark, icy, sharp personality, this is the perfect windproof umbrella for you.
10.Eco Windproof Umbrella (Golf)
The eco windproof umbrellas are environmentally friendly and exist in a variety of colors. Its canopy fabric is made from 100% recycled plastic bottles. It is vented, contains an automatic open and close button, and its ribs are made of carbon fiber. The idea of this umbrella works to reduce the ecological footprint as much as possible. If you care about the environment, hop on this one. Your money spent indirectly saves the earth!
11. Storm star Windproof Umbrella (Golf)
Golf umbrellas are famous for their large capacity, and the storm star windproof supersized umbrella does not disappoint in that category. Although it is manually operated, it has a fiberglass shaft, frame, and ribs, unlike other umbrellas that use them only at the ribs. It has a 51″ capacity, and a pistol grip handle. And when you are wrapping it up for the day, there is a sliding metal tip cup to keep the spokes of the umbrella neat and tucked in.
12. Kentwood Teflon Windproof Umbrella
The Kentwood windproof umbrella aims to serve topnotch quality and design. With a longer 210T fabric, it protects you from nature's harsh elements. Its sleek wooden accents are vintage-inspired, to attend to your sense of style. Its fiberglass rib and frame components are also made of steel, which offers flexibility. During massive blasts of wind, it inverts itself to stave off breakage. We particularly love this 42″ beauty for its durable and classic nature. It is also very affordable.
13. Benkii Windproof Umbrella
This travel windproof umbrella has a ten rib construction to drastically reduce its chances of turning inside out on a windy day. It is sturdy, compact, lightweight, both water and mildew resistant. Its firm leather grip encapsulates an open and close button. Within a second, you are protected from the elements, even winds up to 60mph!
14. Balios Prestige Travel Umbrella
This windproof umbrella is bound to give you a sense of prestige, as evidenced in its name. It is made in Britain, where its inventors get true inspiration from the weather. It has a sleek, glazed wooden handle, and an even posher traveling case. It has fiberglass ribs, a 300T polyester fabric material, and a better double canopy to protect you from the wind. Everything about it reeks of class and style.
15. The Sunphio Large Windproof Beach Umbrella
We can't possibly forget windy days at the beach or the frustrations of running after your umbrella when it pulls off! The Sunphio windproof umbrella is perfect for any beach function. It has a 360° tilt to protect you from the sun in any direction, three-layer carbon fiber ribs, a four-layer canopy with UV protection, and a three-pronged wind anchor to keep it straight when needed. Additionally, it is lightweight and portable. With the Sunphio windproof beach umbrella, you are guaranteed a great day at the beach, picnic, or camp, with just the right amount of wind and sun you need.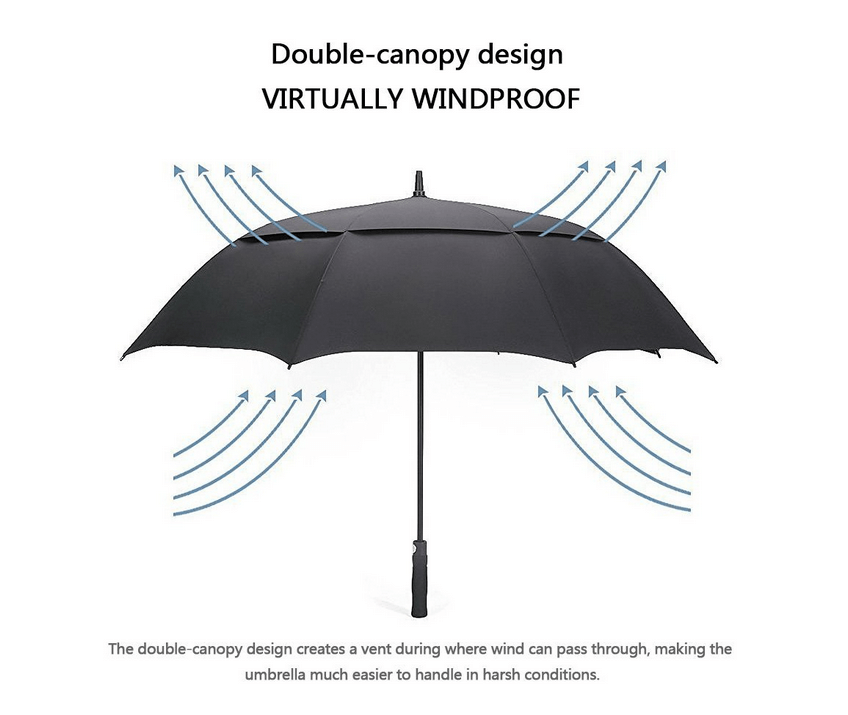 How to Choose a Windproof Umbrella Manufacturer
There are many reputable windproof umbrella manufacturers on the market today, using just about the same technologies and materials. So how should you choose a good one? Well, here are a couple of things to watch out for:
1. Guarantee
Companies such as Hfumbrella offer a lifelong guarantee for their umbrellas. Others offer for only a couple of years, which is fine too. In general, try to find a manufacturer that offers some kind of a money-back deal or guarantee: this is a real sign that the umbrellas are adequately tested and are as durable as they claim to be.
2. Design 
All windproof umbrellas use a combination of the same technologies, so why not choose yours based on looks. While most windproof umbrellas only come in black color, some manufactures like G4Free have options in several colors. If fashion matters to you or if you like to express your personality with colorful accessories, this could be something to consider.
3. Price
Some umbrellas come in at a higher price than others. While this is generally justified by the quality of material used, they may not be sturdier against the wind than cheaper umbrellas. When making a decision, make sure that you are considering the value for money of the umbrella you are buying. 
In Conclusion
Buying a windproof umbrella can make all the difference between a daily struggle with the wind and a smooth experience. We are familiar with the errors of the traditional umbrella. Being caught in the wind with them is never a great experience. Windproof umbrellas protect you against even the strongest gusts while performing various functions such as preserving the ecosystem and keeping you in style! We hope that this little guide has helped you understand just how they work and what to look for when purchasing one. Huifeng umbrella is a reputed windproof umbrella manufacturer for over 30 years. If you want to create reliable windproof umbrellas for bulk purchase, please contact us at info@hfumbrella.com.