Most of us don't like venturing out in the rain. The wetness, the muck, and the blustering winds not only ruin your outfit and look but also put a damper on your mood. This is where having a compact, sturdy, and reliable umbrella comes handy. It keeps one sheltered from bad weather, be it the sun, wind, or rain. We've rounded up the 15 best car brand umbrellas you can purchase.
BMW Motorsport Pocket Umbrella
Designed as a unisex brolly, BMW's motorsport pocket umbrella does not sacrifice quality for size. The canopy sports a bold color blocking design. The soft-touch handle and metal shaft in carbon optics further build on its motorsport feel. The metal center rod adds sturdiness to the frame. This model also features a double automatic function for easy opening and closing. The handle and the canopy have the logo stamped on it.
Bentley Cork Umbrella  
Want a car brand umbrella that looks and feels premium? Bentley's Cork Umbrella fits the bill. The canopy is made of high-quality cork fabric. Its water-repellent surface prevents fabric saturation and staining. The umbrella is surprisingly lightweight despite its wooden frame and handle. It features a manual operating system. Priced at $185, Bentley's Cork Umbrella is a high-end model, but the quality of fabric and craftmanship justify the price. If you are all about choosing sustainable products, this is the right car brand umbrella for you.
Bentley Leathers, Transparent Long Umbrella
This is yet another from Bentley's lineup making it to our list of the 15 best car brand umbrellas. It stands out with its transparent, dome-shaped canopy framed by a neat black/white trim. The PVC shade is high and wide at 37 inches and offers optimum coverage on a rainy day. This stylish umbrella makes holding comfortable with its cane-style curved handle.
Lexus Vented Golf Umbrella  
Tired of umbrellas turning inside out? The 60inch vented canopy on this Lexus number takes care of it. The umbrella is massive, comfortable for two. Its lightweight and sturdy fiberglass shaft hold up well in the wind. We liked the long and soft EVA handle too. Opening and closing the umbrella is easy thanks to the auto operating mechanism.
Gustbuster Pro 62" Vented Golf Umbrella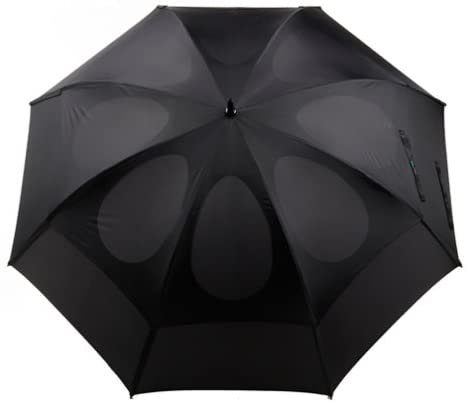 Living up to its name, GustBuster's fiberglass construction is unruffled by gale-force winds. The raindrop vent design breaks the force of the wind, by letting the air go through. However, its double canopy adds weight to this golf umbrella. The Gustbuster boasts of a spacious 62" canopy and a sleek rubberized handle. The lightening deflecting feature is its selling point. Available in solid and two-toned options, the Velcro fasteners and sheath help keep your umbrella in neat and tidy.
Lamborghini Automobili Squadra Corse Golf Umbrella
This best car brand umbrella grabs attention for its bold color palette – optical white, black, and mantis green. It is an extension of their 2017 Squadra Corse collection. As for its canopy, it is single-layered, made of 100% durable nylon. The long, textured handle does not put too much strain on the hand. The push release button ensures quick and snag-free deployment.
Extra-large Scuderia Ferrari Umbrella
Elegant and classy. That's how we describe Ferrari's extra-large brolly. Speaking of color options, Ferrari sticks to its signature red complementing it with a black, carbon fiber effect trim. The Scuderia Ferrari umbrella has a fiberglass structure for higher wind resistance. It is lightweight but big (60.6-inch canopy). What we also liked is the ergonomic handle design – a hand-molded rubberized grip.
BMW Auto-Open and Auto-Close Umbrella
This is our pick of an all-black, no-nonsense car brand umbrella. The automatic open-close function helps the umbrella unfold smoothly, at the touch of a button. At 37" in diameter, the canopy is not very large, but it won't fail you on a rainy day. The solid black canopy gives it a formal look. The only embellishment is the white BMW decal on the canopy. It is a compact size that does not take up too much space in storage.
Maserati Folding Umbrella 
The Maserati folding umbrella is made of white fabric with blue edging along the perimeter. There's a fine trim on the top of the canopy too. It's a long and sleek handle that is extremely comfortable. The folding design gives it an edge over the best car brand umbrellas on this list. You can fold down and stash your umbrella when not in use.
Cadillac Black Golf Umbrella
Cadillac's offering is your best bet for a simple, rugged, lightweight umbrella car brand umbrella. The canopy is huge; it opens to an impressive 68 inches. Its heavy-duty fiberglass shaft and ribs do not buckle under strong winds. The double vented design further keeps the umbrella from flipping under pressure. It has an auto operating mechanism, great for one-handed use. We cannot miss a mention of its rubber-coated handle; it allows for easy gripping.
Audi Golf Sports Umbrella 
Audi impresses us with a black, large-sized travel umbrella. Measuring 64", the oversized polyester canopy promises extra coverage from the rain. Audi's vented design gives you a trusty umbrella for the best possible protection against the wind. Opening the umbrella is a breeze owing to the easy-to-use auto operating mechanism. The other highlights on this model are the sturdy fiberglass shaft and rib design and the solid, pistol grip handle.
Scuderia F1 Compact, Small Umbrella
This branded umbrella from Ferrari is a part of their 2015 collection. It features a short barrel handle that's comfortable to hold. There is a wrist strap too for convenient carrying and a matching sleeve to keep it neat. Despite its small size, it does a good job keeping you dry. This compact model is the perfect travel car brand umbrella. It is available in two color options – black and red.
Mercedes AMG Petronas Compact Logo Umbrella
Mercedes offers a quality product at a good value with its AMG Petronas Compact Logo Umbrella. It is functional and well-built. The non-slip, molded handle translates to a secure and comfy grip. The quick-release button is a major draw as it eases handling. Another plus is its telescopic design which makes an ideal travel umbrella. The top panel of the canopy is a black, polyester fabric while the underside sports a silver-grey layer.
14.GustBuster 68 Inch Canopy Doorman Umbrella
This high-wind resistance umbrella wins hearts with its old-world look. The stick umbrella with its wooden hooked handle and black canopy pairs well with a crisp suit. Its 68-inch shade is slightly oversized. That coupled with the overlapping layers of its vented design makes it heavier than other double canopy models in the same range. Unlike other models on our list of the best car brand umbrellas, this one is operated manually.  Nevertheless, it retracts and expands smoothly.
Lexus Black Automatic Telescopic Umbrella
This budgeted car brand umbrella from Lexus is a compact, mid-sized umbrella. With its windproof and rainproof features, you can expect to get decent coverage. It features a fully-automatic operating system. For a good price, you get an umbrella made of top-quality fabric and a sturdy build. The Lexus logo is printed on the canopy; there's a decal on its barrel handle too. It's also a popular pick for its retractable design, that makes it portable.
We've discussed the features of the 15 best car brand umbrellas available on the market. Make your pick based on what suits your needs and budget the best.
Hfumbrella, a trusted car brand umbrellas manufacturer in China, supplies all kinds of car brand umbrellas.