Best Color-changing Umbrellas
Are you looking for a stylish and functional umbrella to take your style to the next level? Look no further than color-changing umbrellas! These extraordinary umbrellas keep you dry in a drizzle and feature stunning colors that pop into any outfit. Whether you're on your way to work or running errands, these unique designs will turn heads and won't disappoint. We have rounded up ten of our favorite color changing umbrellas ranging from classic solid colors to multi-colored designs, so there is something here for everyone! Read on for our top picks and find the perfect umbrella for any occasion. See why we think color changing umbrellas are the go-to accessory this season!
All You Need To Know About Color-Changing Umbrellas
Find below the top ten color-changing umbrellas with a brief description of each one:
When wet, the Suck UK Color Change Travel Umbrella changes from black and white to bright colors. This umbrella features a top-notch opening and closing mechanism, complemented by an anti-slip, soft-grip handle that ensures maximum comfort. With a canopy measuring 100 centimeters, it provides ample protection from both rain and sun. Despite its sturdiness, this umbrella is surprisingly compact and retractable, making it effortless to carry around. It can conveniently fit into your bag or glove compartment, making it perfect for on-the-go use. Furthermore, this umbrella is crafted from durable, recyclable materials that are lightweight and resistant to rust and corrosion.

This is a superior-quality umbrella with an automatic opening feature. Once you step out into the rain, you are dazzled by lovely bursts of color. In addition to its beautiful colors, you are promised a wind-proof, resilient, and lightweight umbrella. It also has a unique feature: an LED flashlight in its handle, allowing you to use the umbrella even in the dark. This rainbow-colored umbrella was designed to brighten its users' moods while keeping them dry or safe from the scorching sun. This color-changing umbrella by CRAZE comes with its branded color-coordinated sleeve and a wrist strap.
3. JoJo Maman Bébé Kids' Dinosaur Color-Changing Umbrella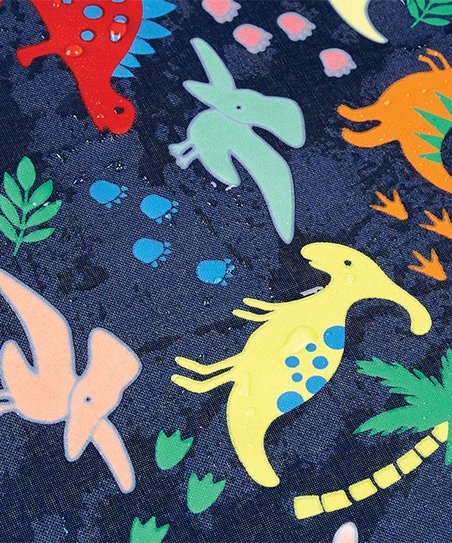 This kids' umbrella uses a unique print technology that makes the white dinosaurs on the umbrella turn colorful when wet. Jojo Maman designed this umbrella to make it easier for children to handle and maneuver. The umbrella has a Velcro™ strap that keeps it secure and compact when it is no longer used. Its canopy is 100% polyester to protect your child from adverse weather conditions. The umbrella features a plastic handle that makes it easy for children to hold onto without stress. The tips of the umbrella are also protected with plastic spoke end caps to prevent any likely injury; children's safety is guaranteed.
4. Daisy Cheynes Color-changing umbrellas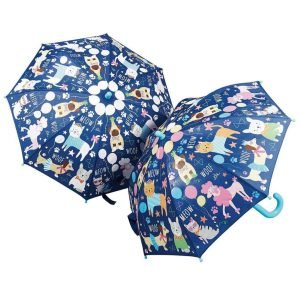 Many people adore Daisy Cheynes Color-changing Umbrellas, and for a good reason, too; they provide a variety of umbrella designs. The color-changing umbrellas from Daisy Cheynes have hidden colors on each panel of the umbrella's canopy that comes to life once it is under the rain. Their color-changing umbrellas are perfect for children, making them love the rainy season and forget the dreariness that comes with it. Some of the available Daisy Cheynes Color-changing Umbrellas include the Bunny Color-changing Umbrella, Dinosaur Color-changing Umbrella, Mermaid Color-changing Umbrella, Pets Color-changing Umbrella, and others. These umbrellas have a canopy span of about 70 cm or more when opened, which helps keep your little ones dry.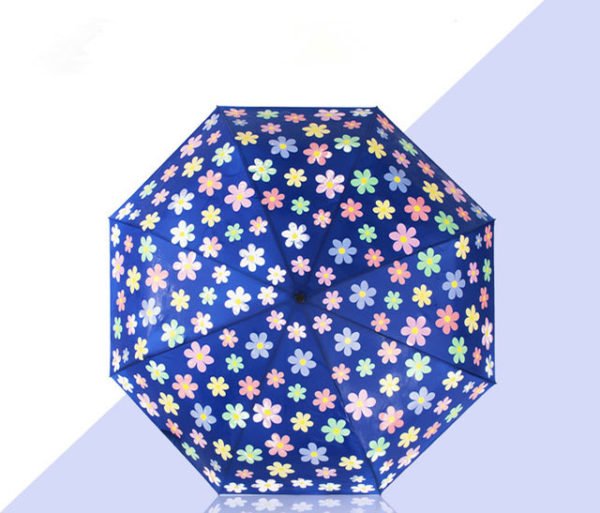 This color-changing umbrella from Huifeng Umbrellas could feature a zebra or raindrops that change to bright colors when wet, achieved with a particular ink (the Hydrochromic ink). When the umbrella is dry, the printed image is white, but the zebra and raindrops become vibrant when it comes in contact with water. The umbrella is designed compact, making it easy to travel with, as it can fit into your handbags or suitcases. The Huifeng Color Changing Travel Umbrella is suitable in rainy climates and offers protection from UV rays. Furthermore, the canopy is made of 190T solid polyester with heat transfer.
6. Hogwarts™ Color-changing Umbrella from Harry Potter

If you are a Harry Potter fan and a lover of all things magical, then this umbrella is for you. This octagonal color-changing umbrella has detailed pictures of Hogwarts School of Witchcraft and Wizardry crests in black and white. The magic happens when you step outside during the rain and the umbrella gets wet; the crests transform to show their brilliant colors. Once it dries, the crests go back to being black and white. As a fan of magic, this change is bound to leave you feeling enchanted repeatedly. This umbrella is available in different colors.
7. UniqueCartz Color-Changing Umbrella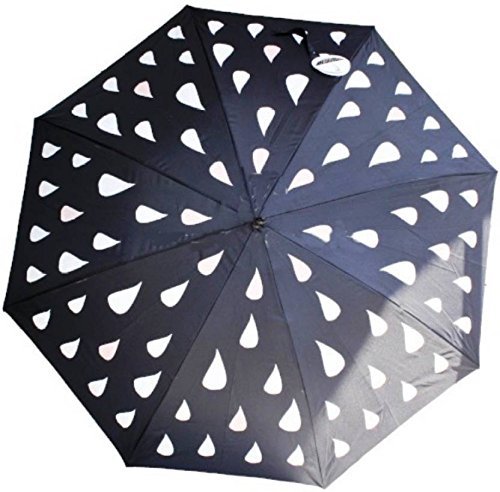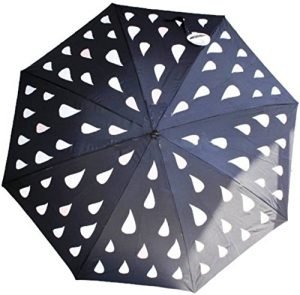 This umbrella's canopy has a black background with white raindrops printed on it. However, as soon as it gets wet, the white raindrops become a party of colors. This umbrella has exceptional style and features that satisfy its users with its usage. The UniqueCartz Color-changing Umbrella is small, foldable, and easy to carry. It is suitable for both males and females. This umbrella can be used in all seasons because it protects you from heat, rain, and even UV rays. Also, the umbrella is windproof, waterproof, and sunproof.
8. Magic Fantastic Color-Changing Umbrella When Wet
This umbrella was designed for adults who love the science behind color-changing umbrellas. This umbrella's size ranges from 14 inches to 32 inches, while the diameter of the canopy is about 21 inches. It is a three-fold umbrella, making it compact and very handy. The umbrella's frame is made from fiberglass, while the canopy is made with Pongee fabric. The designs are printed using silk screening and heat transfer printing methods. It has an anti-UV rays feature that protects you from the harmful rays. Lastly, it is eco-friendly.
9. Crayola Color-Changing Umbrella

This color-changing umbrella from Crayola® is 17 inches long when retracted and extends to 21 inches. When it is open, it measures about 37 inches wide. When the umbrella is dry, its colors are black and white, but it becomes very colorful once it comes in contact with water. It is made with 100% nylon material and a wind-resistant frame made of steel. The umbrella's handle is made of rubber to ensure comfort as you use the umbrella. This colorful and comfortable umbrella is also perfect for traveling.
10. Stephen Joseph Color-Changing Umbrella

With the Stephen Joseph Color-changing Umbrella, every rainy day becomes magical as you see the plain black and white colors fade away to reveal vivid colors. These umbrellas are easy to open and close, and pinch-free, so your child's fingers are safe. The canopy is made from 100% polyester, which is not difficult to clean; it just needs to be wiped with a damp cloth. There are a variety of 8 designs to choose from, and you can match them with any other Stephen Joseph rain gear.
Make a Splash with the 10 Best Color-Changing Umbrellas on the Market
In conclusion, several umbrellas on the market have color-changing abilities, including automatic, manual, and solar-powered models. You can find an umbrella to express your style, whether you like a more traditional look or something flashy and futuristic. Colors range from fun and bold to subtle and minimalistic. With features like built-in flashlights, micro-gauges, hands-free water repellents, and anti-fog designs, these umbrellas offer unique benefits for those who want more out of their accessories. For truly unique customization solutions for large groups or special events, contact hfumbrella for custom options like heat-reactive colors or logos printed on the canopy fabric. Wherever you go with your colorful umbrella – from casual walks through the park to business meetings – you'll make some waves with these 10 best color-changing umbrellas!