Client: Cotton Traders
Industry: Fashion, Retail
Challenge: Creating a Wind-Resistant and Stylish Umbrella Line
Cotton Traders, a leading fashion and retail brand known for their commitment to quality and style, approached Hfumbrella, a renowned manufacturer in the world of umbrella craftsmanship. Recognizing the increasing demand for wind-resistant umbrellas, Cotton Traders sought to offer their customers a line of umbrellas that would not only withstand strong winds but also exude fashion-forward design. This presented Hfumbrella with an exciting challenge: to create the perfect solution that seamlessly blended style and durability.
Research and Innovation: Unveiling the WindRider
Hfumbrella's team of skilled artisans dedicated countless hours to researching and innovating a wind-resistant umbrella that would captivate the market. The result of their tireless efforts was the WindRider – an exceptional umbrella that surpassed expectations in both functionality and style.
The WindRider's Revolutionary Vent System
The WindRider stands apart from ordinary umbrellas due to its revolutionary vent system. This ingeniously engineered feature allows the umbrella to resist forceful gusts, ensuring it remains intact even in challenging weather conditions. The carefully placed vents strategically direct wind flow, preventing the umbrella from turning inside-out and offering reliable protection.
A Stylish Statement in Any Weather
The WindRider goes beyond practicality, offering a touch of elegance to every rainy day. Adorned with a simple yet stylish spotted pattern, it effortlessly combines fashion and functionality. Cotton Traders recognized the importance of providing their customers with an umbrella that not only offered protection but also made a style statement.
Compact and Convenient Design
Recognizing the need for portability, Hfumbrella designed the WindRider to be compact and easy to carry. Its collapsible frame allows the umbrella to fold down into a petite form, making it ideal for on-the-go individuals. Whether it's tucked away in a bag, stored in a glove compartment, or slipped into a coat pocket, the WindRider is always ready to shield its owner from the unpredictable whims of nature.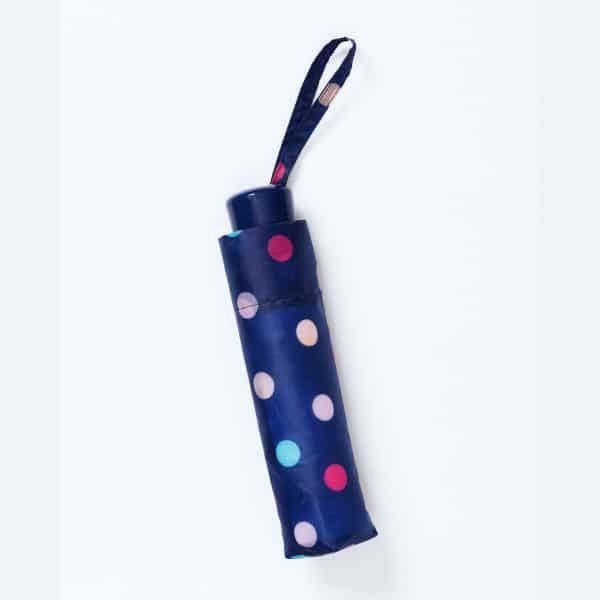 Unmatched Quality and Longevity
To ensure the highest standards of quality, Hfumbrella employed meticulous attention to detail during the manufacturing process. The WindRider's canopy is crafted from resilient 100% polyester, providing durability and easy maintenance. With a simple wipe, the WindRider can be restored to its pristine condition, ready to face the next rainy adventure.
Results: The WindRider's Success Story
Upon unveiling the WindRider to Cotton Traders' customers, it became an instant success. People marveled at its wind-resistant capabilities and praised its chic design. The WindRider became more than just an umbrella; it became a fashion statement that elevated every rainy day. Its ability to combine style and durability resonated with customers who valued both functionality and aesthetics.
The collaboration between Hfumbrella and Cotton Traders resulted in an exceptional product that empowered individuals to face the wind and rain with confidence and grace. This successful partnership laid the foundation for future endeavors, as both companies continue to innovate and create remarkable products that redefine the way we embrace the beauty of nature.
To experience the unmatched style and durability of the WindRider, visit our website [link in bio]. Join us in embracing the unpredictable weather with an umbrella that truly stands out.