Discover a unique way to improve your brand's image with custom fishing umbrellas! These high-quality items are not only practical—they also function as smart promotional instruments.Your brand's visibility and popularity can be greatly increased by having these umbrellas distributed with your logo or design on them.
In this article, we'll discuss the many uses of branded fishing umbrellas and offer advice for launching successful advertising campaigns.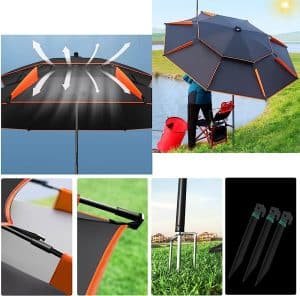 What Are Branded Fishing Umbrellas?
Customized fishing umbrellas are a unique sort of promotional good that can help businesses improve their public image.
These umbrellas are customized with the company's name, logo, and colors. They allow companies to boost brand awareness and convey positive vibes.
Branded items like these umbrellas are ideal for fishing-related businesses or those that target outdoor enthusiasts. Customers can use their branded fishing umbrellas for outdoor activities including camping and picnics.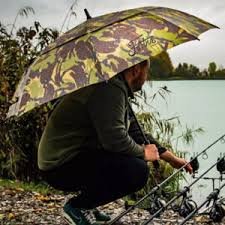 Benefits of Branded Fishing Umbrellas
Promotional fishing umbrellas are a great method to raise brand awareness and establish company credibility. Not only can they keep users dry and shaded while fishing, but they also have several uses for commercial enterprises.
Increased Brand Visibility
Having more people see your brand is one of the main benefits of using branded fishing umbrellas. People can't miss your logo and brand name when they are in a visible place on a good umbrella.
Everyone will see your custom-branded umbrella when you're out fishing or at an outdoor event. This means that more people will see your company and that potential customers will know it better.
Enhancing Brand Recognition
You may associate your company with outdoor and leisure activities by using branded fishing umbrellas in your marketing campaigns and events. This can be especially useful if your target group is made up of people who love fishing or being outside.
Branded fishing umbrellas promote word-of-mouth marketing and create a visual relationship with outdoor activities.
Positive brand association
The more people see your brand, the stronger the association gets in their thoughts. This can make people more loyal and willing to talk about your business.
Also, when people use branded fishing umbrellas, they associate good things like safety from rain and sun with your brand. These good experiences strengthen their view of your company as reliable and trustworthy.
This kind of thinking can be especially helpful for businesses that run in highly competitive markets where it's important to stand out.
By using branded fishing umbrellas, you can create an emotional link between customers and your business. This helps you stand out from competitors.
Stand Out from the Competition
As a business, it's always important to stand out from the rest of the market, and branded goods can help you do that.
By putting your name or brand on a fishing umbrella, you give your brand a unique look that people will remember. This makes it easier for customers to remember your business and more likely for them to choose you over competitors who don't have a similar brand.
Branded fishing umbrellas can also set you apart from the crowd by showing that you care about quality. When customers see high-quality products with good branding, they are more likely to think that your company has those same qualities.
Additionally, customized fishing umbrellas can be utilized as promotional presents or giveaways at events such as trade exhibitions or conferences.
Increased Customer Engagement
One of the most important benefits of using branding fishing umbrellas is that they make customers more involved. By giving these branded items to the people in your target market, you give them a chance to interact with your brand in a useful way.
With a well-done fishing umbrella campaign, you can get potential and current customers to connect with your brand in more ways than just doing business with you.
This interaction can make people more loyal to the brand since they are more likely to buy from names with which they feel connected.
By giving clients high-quality fishing umbrellas with your brand on them, you can give them memorable experiences that make them feel good about your business. In the end, these engagements lead not only to more money coming in but also to happy customers telling their friends about the business.
Types of Fishing Umbrellas Available
One of the most famous is a brolly system, which gives you the most protection from the sun and rain. Brolly systems are useful for fishing because they are easy to set up and take down.
A dome or cover system is another type of fishing umbrella. This type is more stable than brolly systems because it has pegs that you can stick into the ground to keep it in place. Compared to other fishing nets, they have more space and headroom.
A third choice is a beach cover system, which is great for people who like to fish on beaches or in bodies of water. Most of the time, these shelters have sand pockets that help them stay in place on soft ground.
There are also umbrellas made just for carp fishing that have built-in sides to protect you from wind and rain. Some types also come with mosquito nets to keep bugs away while you fish.
And of course, there are regular umbrellas that people use while fishing.
Which type of fishing umbrella to use relies on your purpose.

Tips to Implement a Successful Branded Fishing Umbrella Campaign
Choosing the Right Design and Elements
Think about using colors that match your brand's logo or other marketing materials, and add fishing-related pictures or images that catch the eye. Adding a catchy phrase or tagline can also help your brand message stand out.
It's important to make the umbrella out of high-quality parts, like a sturdy frame and cloth that won't wear out quickly. This will not only make the product last longer but will also make it seem more valuable to the people who get it.
If you want your branded fishing umbrellas to stand out from those of your competitors, you could add extra features like UV protection or wind resistance.
Targeting the Right Audience
Your fishing umbrellas should appeal to your target market's interests and preferences. A general approach won't cut it in today's competitive market.
To determine your target audience, consider factors such as age, gender, location, income level, and buying behavior. With this information in mind, you can customize your fishing umbrellas' design and features accordingly.
For instance, if your target audience is primarily male anglers over 40 years old who enjoy fly fishing trips across the country during their vacations – then designing rugged fishing umbrellas with pockets for tools would be ideal to attract them.
On the other hand, if you're targeting young female anglers who prefer local lakes or rivers for weekend leisure activities – girly pink-colored folding umbrellas with compact sizes that fit into small bags would be more suitable.
Creating Brand Experiences and Memories
To build a strong customer base, it's important to give customers memorable company experiences. It's possible to make anything you can imagine with a branded fishing umbrella.
Hosting a fishing competition or event where participants get branded fishing umbrellas as part of their registration package is one way to make the experience memorable. This not only gets people interested in your brand, but it also gives them a chance to interact with your goods in a fun and interesting way.
Another idea is to make designs that are only available for a limited time or for a certain season. This can raise demand for your product and make customers excited to get their hands on the latest design.
Customization Options for Fishing Umbrellas
Fishing umbrellas come in a variety of colors, sizes, and styles. There are many customization options available for fishing umbrellas, which can be used to create the perfect umbrella for your needs.
Some of the most popular customization options for fishing umbrellas include:
Fabric – There are two main types of fabrics used for fishing umbrellas: polyester and nylon. Polyester is more durable and UV resistant, making it ideal for use in sunny climates. Nylon is lighter in weight and dries more quickly, making it a good choice for wetter or cooler conditions.
Color: You can choose from a wide range of colors for your fishing umbrella. Some people prefer to choose a color that matches their boat, while others prefer a more neutral color that won't attract too much attention.
Size: Fishing umbrellas come in a variety of sizes. Choose an umbrella that is large enough to provide adequate coverage, but not so large that it becomes cumbersome to carry.
Shape: The shape of the umbrella is another important factor to consider. Fishing umbrellas come in both round and square shapes. Round umbrellas offer more protection from the sun and wind, while square umbrellas provide a larger shade area.
Style: There are many different styles of fishing umbrellas available. Choose an umbrella that suits your personal style and needs.
Other: You could also consider customizing handles or straps, as these smaller details can add an extra touch of personalization to each umbrella while reinforcing brand recognition

Examples of Successful Branded Fishing Umbrella Campaigns
There are many examples of successful branded fishing umbrella campaigns that helped companies improve their public image and make their brands more visible.
Bass Pro Shops, a well-known outdoor shop in the United States, ran such a campaign.
The company started a number of fishing tournaments all over the country, and they gave the participants and winners branded fishing umbrellas. The umbrellas were made of high-quality materials and had the company's logo on them. This made them both useful and beautiful.
Shimano, a major provider of fishing gear, ran another successful campaign. As part of a promotion, they gave customers who bought certain goods during a certain time period a free fishing umbrella with their brand on it. This not only made more money but also made people feel good about the brand.
Another example is Rapala USA, which gave away custom-branded umbrellas at trade shows and other events. This made customers more involved and helped their goods become more well-known.
These examples show that putting your brand on fishing umbrellas and using them in marketing is a good way to improve your company's image while giving your target audience something useful.
How to Choose the Right Fishing Umbrella for Your Brand
There are a few things to think about while picking the ideal fishing umbrella for the reputation of your business.
You must first consider why umbrellas are being used. Who will be using them, staff or customers? Do you plan to use them mostly for fishing or as general-purpose outdoor umbrellas?
Next, think about the variety of possible designs and personalizations. Choose colors and designs that reflect your brand's aesthetic if you want your branded fishing umbrellas to stand out.
Quality is also very significant. If you want your product to last, make sure it was made using sturdy components like fiberglass frames and UV-resistant fabric.
The manufacturer should have a wide range of customization options. Know their MOQ and Lead time before placing an order.
Why Hfumbrella is one of the best Fishing umbrella Manufacturers in the World
At Hfumbrella, we're proud to be one of the best fishing umbrella companies in the world. With more than 30 years of experience, we've proven that we're the best at manufacturing high-quality umbrellas.
Quality is our priority, which is why our dedicated quality control team meticulously checks every step of the manufacturing process. We use only the finest materials to ensure durability and resilience against tough weather conditions.
What sets us apart is our meticulous attention to detail. From design to production, we carefully consider every aspect, resulting in visually appealing and high-performing umbrellas.
We understand the importance of customization. That's why we offer a wide range of options for creating unique branded fishing umbrellas. Our team collaborates closely with clients to design personalized umbrellas that reflect their brand identity while maintaining functionality.
Exceptional customer service is at the core of our values. We're committed to providing prompt responses and effective solutions to ensure complete customer satisfaction.
With over 10,000 global brands in our portfolio, we have a broad market presence spanning Korea, Japan, Europe, the UK, the USA, Canada, and Australia. We have no minimum order quantity (MOQ) requirements, and our lead times are as follows:
Sample lead time: 3-5 days
Bulk lead time: 15-30 days
Transfer days: 10-30 days
Hfumbrella is the best choice if you want stable manufacturing, great quality, and great customer service. Experience the difference with Hfumbrella and elevate your fishing umbrella game to new heights!
Final Words
We hope this article was helpful to you and now you know how fishing umbrella can improve your brand identity.
Hfumbrella is one of the best fishing umbrella manufacturers in the world and we offer high-quality products at an affordable price point. If you are looking for branded fishing umbrella feel free to contact us. Our team of experts will contact you soon.