Two Person Umbrella For Lover
Your romantic night doesn't have to come to an end just because of a little rain – the two person umbrella will allow you and your date to stay dry while also facilitating you to get in each others comfort zone… making the two person umbrella the ultimate wing man.
From the people that brought you the two strawed-malt, now comes the two person umbrella, equally adorable and much handier in day to day living. No matter how heavy the rainfall, you and your sweetheart will remain nice and dry while the bottom half of your pants and shoes get soaked.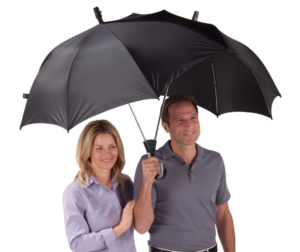 ✔ The two person umbrella will allow you and your date to stay dry while also facilitating you to get in each others comfort zone

✔ Comes the two person umbrella, equally adorable and much handier in day to day living.

✔ No matter how heavy the rainfall, you and your sweetheart will remain nice and dry while the bottom half of your pants and shoes get soaked.

✔ Lovers best choose

✔ Make life different and more beautiful when you use it