Home »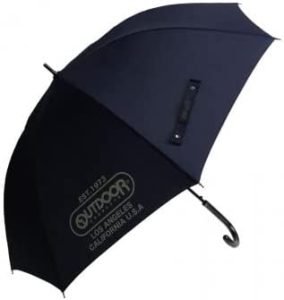 Sturdy and Durable Outdoor Products Kirika Jump Umbrella For Outdoor Camping
Client: Outdoor Products
Product: Kirika Jump Umbrella
Location: Japan
Many people love the outdoors, nature, and enjoying the beautiful gifts life in the open has to offer. However, it's worth preparing for the pleasant (and not so pleasant) surprises it may bring to truly enjoy it.
We think this is what the founders of Outdoor Products thought when they launched one of the well-known online stores for outdoor kits in Japan. For many years, this company has produced the perfect outfits for feeling safe in the outdoors.
From Parkas to bomber jackets, raincoats, duffel bags, backpacks, ponchos, t-shirts, face masks, and of course, our favorite — Umbrellas.
Producing an umbrella for Outdoor Products was an exciting challenge we were pleased to take on. We had a couple of goals to achieve by producing these umbrellas:
To manufacture a product that was durable and strong enough to withstand the wear and tear of outdoor camping
To provide a unique-looking gadget that anyone would be proud to own
To produce an umbrella that would exceed our client's expectations
How did we set out to accomplish all these goals? We worked together and brought all our ideas together, and whipped up an umbrella that was brand-standard. When we shared the umbrella plans with the team from Outdoor Products, they couldn't wait to see the first sample for inspection. So we got to work.
For an outdoor umbrella, we had to think about the purpose we wanted the product to achieve — to keep the user as protected as possible when camping or in the outdoors generally. So, we went for a wide canopy diameter of 92.5", large enough to cover up to 2 people.
We also chose a strong, durable fabric, polyester. Polyester is a wonderful choice for umbrellas that will spend a long time outdoors. It also dries quickly, unlike some other types of fabric. Even though it is a relatively cheap fabric, this didn't affect the quality of the end product.
Now, for the unique touch. The client understood how umbrellas could be a challenge when you need to see your surroundings clearly. An opaque fabric like polyester will also not help matters.
How did we solve this problem? We dedicated one panel on the canopy to a clear, transparent rubber-like fabric. This way, using an umbrella for protection didn't need to also mean inability to see in front of your nose.
Users can see clearly through that panel in the rain or anywhere outdoors without a problem! The fabric's color also helps users stand out in the crowd on a dark, gloomy day or a thick, dense forest during hiking.
We also tried to infuse a bit of promotional element into this umbrella to help the client build a larger customer base and be distinct in the crowd. We printed the brand's logo onto the umbrella's closing strap using a bold, bright pink-on-black print.
We also printed the logo at the tips of the umbrella panels, which we taped black all around. The logo color matched the color of the umbrella itself, bright pink. The best part of this? There was no bleed out!
Every panel distinctly showcased the logo without bleeding into the next or outside the panel; a truly neat finish. For solid strength, we fitted a solid metal frame and shaft onto the umbrella, perfect for strong winds.
We also gave it a nice, curved, J-shaped handle for easy grip, which is also perfect for children's small hands. The finished Kirika Jump Umbrella makes a lovely gift for your family or friends and the perfect addition to your outdoor camping kit.
Sometimes, umbrella production may be a hectic experience; however, working with Outdoor Products was a breeze!