Being caught in the rain on a workday is frustrating. More so, getting to the office where everyone else may be totally dry, and you come in looking wet and battered can be embarrassing. Thankfully, umbrellas can come to the rescue —only if they're quality. An ordinary umbrella will be as good as useless on a stormy day.
Rainy climates further emphasize the need for an office umbrella. A heavy downpour on a work morning may ruin your great office outfit or your work mood for the day. So, getting a good, quality office umbrella to keep you dry on workdays is of utmost necessity.
There are two features to look out for in an office umbrella. They are; quick-dry and easy-fold compact features, as you're not about to take up office space to dry your umbrella. Furthermore, different climates require different umbrellas. We have compiled a list of the best office umbrellas for rainy climates for you. Find them below—
1. Repel Windproof Travel Umbrella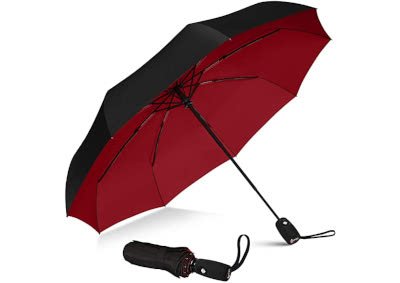 At the top of this list is the Repel Windproof Travel Umbrella. This umbrella is an 11.5" long, folding, handheld umbrella, weighing less than 1lb. You can fold this umbrella and fit into your briefcase after heavy rain. Its auto open-close function allows one-handed operation, such that you can hold your suitcase in one hand and handle the umbrella with the other hand.
As the name implies, Repel has 9 resin-reinforced fiberglass ribs, a wrist strap, and a vented double-canopy that flex slightly to withstand wind gusts without turning inside out. It also has a waterproof and instant-dry feature.
This Repel costs only $22.95 on Amazon.

Two features set this umbrella at number two —its radial tensioning system that defies heavy rains of up to 55mph, and it's quick-dry fabric. Also, it weighs only 0.77lbs, making it easy to carry.
The blunt tips ensure that you poke neither passers-by nor destroy files if you put it in your briefcase. For durability, it is rip-resistant and comes with a 2-year warranty. Finally, it has stylish and classy designs that can match your corporate outfits.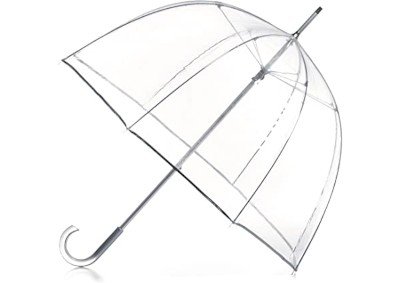 With over 52 inches width of protection and only 37 inches of folded length, this umbrella has a clear canopy that lets you see what is happening around you. This visibility can be improved by a hand or rag swipe when misty.
The acrylic handle guarantees a good grip even when wet. Also, the umbrella can handle heavy winds at 45mph. A downside is that it is a single-person design, so your colleagues may have to get theirs too for just$26.
4. Crown Coast Travel Umbrella

With $17 you can get this lightweight umbrella that can withstand 60mph winds in a rainstorm. It offers 39" diameter of protection and is 11" in length. It also comes with a 100-day zero risk money-back guarantee.
Crown Coast has a unique Memory flex frame which redistributes extreme wind force by flipping the umbrella inside out, making sure it doesn't break under pressure. There's the 8-rib and 10-rib sizes, both small enough to fit into a briefcase.

Gustbuster claims to be the only "unflippable, unflappable, and unleakable umbrella in the world." Having been wind-tested and proven to withstand 55+mph of wind, this isn't a false claim. A lifetime warranty further backs this claim.
It weighs only 1.1lbs and is compact enough to fit in a briefcase, should you decide not to use it's carrying sheath. It has a sure-grip handle, a unique 43-inch double canopy, which can defy strong winds without flipping, guaranteeing constant dryness.
Clark travel umbrella is cheap and durable. For just $12 on Amazon, you get a 38" canopy, 16'' long umbrella which folds to a compact 11''. It is made of mildew-resistant, quick-dry polyester fabric; and has a 1-year warranty.
This umbrella has a Teflon coating that repels water. It is also durable and has survived tests where it was turned inside out 20 times in 30mph winds. This is partly because it was constructed with metal ribs and 3-fold steel shafts.
7. Rain-Mate Compact Travel Umbrella

Another umbrella you could consider is this Rain-Mate umbrella. This umbrella is user-friendly and comes with a Lifetime-replacement guarantee. At 12'' in length, it has 9 reinforced fiberglass ribs with a sturdy all-metal frame and shaft, supporting the 42'' canopy. The fiberglass hinges are equipped with a fail-safe technology that inverts the canopy in heavy gusts of wind, preventing the ribs from breaking or bending. Finally, there is an auto open and close button on the ergonomic handle; it is foldable and tiny enough to fit in a bag or suitcase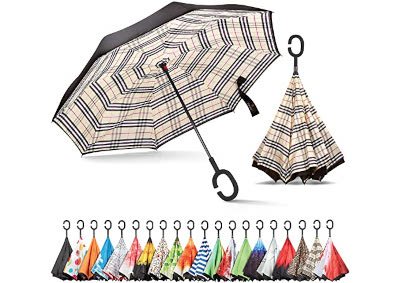 Looking for an inverted umbrella, choose Sharpty! Inverted umbrellas restrict the wet parts to the inside, preventing floor and car drips. Sharpty opens outdoors while you're still indoors, ensuring you stay dry. It comes in a myriad of colors, and the C-shaped handle makes it easy to hold. It also has a 42.5" double-canopy spread over a very sturdy frame of 6 sturdy carbon-fiber ribs, creating room for a colleague. Lastly, this umbrella is windproof, able to withstand 60+mph of wind.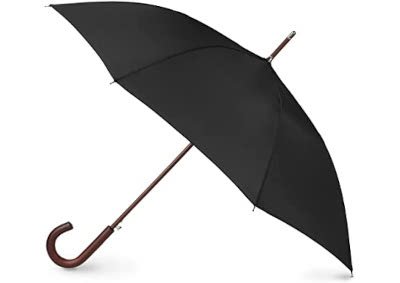 If you're concerned with protecting more than just your upper torso, you should consider a stick umbrella. The Totes blue line has a wooden crook handle, which gives you a secure grip. It also opens automatically with a button, so you can have one hand free. The 48-inch canopy gives you full coverage from the rain. And, for care, you need to leave it open to dry and wipe clean with a damp cloth.

Lesoom is a 12.6" umbrella that weighs less than 1lb. It uses Teflon waterproof technology, which causes the umbrella to dry off with just a few shakes. It's automatic open and close function allows for one-handed operation. Also, it is compact enough to be packed in briefcases.
It is further fortified with 12 resin-reinforced fiberglass ribs that can withstand powerful wind gusts without turning inside out. Its strong metal frame and a slip-proof, rubberized handle make it extra-necessary for rainy climates. Get this for $15.
11. Bodyguard Travel Umbrella

Bodyguard is another great inverted umbrella. It's 12" aluminum ribs are proof that it is built for the big storms. As expected from an inverted umbrella, the design contains drips. It also has a fast-dry feature that requires just a few shakes to remove most of the water. It's auto-open and close feature leaves you a free hand. Furthermore, at 41.3 inches, it is large enough for two people; and sturdy enough to fit in a bag.

Newdora is another sturdy umbrella for rainy climates. It has an auto open and close button, perfect for an early morning office trip. This umbrella is 32cm long and 105cm in diameter, portable and lightweight, weighing only 0.56kg.
Newdora guarantees long-term reliability and is durable for up to 10,000 deployments. After use, you should keep in a dry, ventilated place to prevent rust. There is also a rainwater-absorb bag that ensures it doesn't get you or the contents of your briefcase wet.

SY Compact has been manufacturing durable umbrellas for 15 years. This particular umbrella is one of the cheapest on this list at only $10 on Amazon. It has a black metal shaft and fiberglass ribs, which give the canopy resistance to wind gusts of 55mph. The canopy is made of 210T pongee fabric, which is water repellent and dries quickly. It is an automatic umbrella, lightweight, and makes for an easy carry. Also, the manufacturer guarantees a replacement if this umbrella fails you.
14. MRTLLOA Double Layer Inverted Umbrella

This umbrella has a unique double-layer canopy and reverse open and fold design, which allows you to fold the wet layer into the bottom "dry" layer, preventing floor drips. It is a manual umbrella that opens with a button. It's 8 steel ribs can be converted to 8 legs for balancing and drying the umbrella. At 49" in length, weighing 1.1lb, and having a C-shaped hand grip design, this is a comfortable choice for an office umbrella.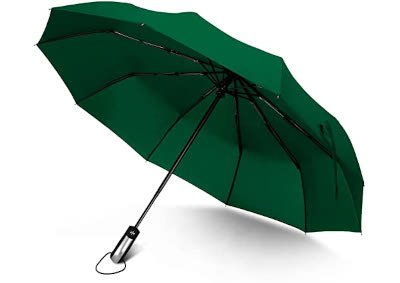 This umbrella has 10 resin-reinforced fiberglass ribs, which is more than most other umbrellas have. It is made with pongee, water repellent, and fast-dry fabric, which can withstand 60mph of heavy winds. It's 46" canopy guarantees maximum coverage, and the auto open and close button makes for easy use, one-handed operation.
This umbrella package comes with the Rainlax umbrella, its carrying case, and the Rainlax Gift Carton if it's a gift to someone. Another benefit of getting this umbrella is the automatic enrolment in Rainlax's lifetime replacement guarantee.
In conclusion
Office umbrellas are lifesavers on a rainy workday. If you have just moved to a location that's prone to "out-of-the-blues" rain and have been looking to get an umbrella, any from our list will do the trick of keeping you dry. If you're looking to manufacture or buy bulk office umbrellas, you can get inspired by any of these on our list. You can also contact us at info@hfumbrella.com to help you manufacture your office umbrellas in bulk.