Whether you are British or not, nowadays having a quality umbrella is a must for everyone. Besides, there are those who not only use umbrellas for protection from the rain but also as a stylish element that perfectly complements their outfit as well as serves to make them known. And how can this be achieved? It's very simple, by making high-end custom umbrellas.
Even though umbrellas can sometimes be a nuisance and are one of the objects that we end up losing the most in stations, buses, or bars, sooner or later we will all need one again. If your main objective at the moment is to grow a brand, perhaps the idea of creating personalized umbrellas with your slogan is a brilliant plan full of advantages.
Now, any kind of umbrella can be used to promote us? Of course not! Every company is different, so you can't give the same kind of umbrella to a brand that sells luxury cars as a law firm; an image is the most important thing and what customers will see first, so it's worth making the effort to take care of it as much as possible, even in the colors and shapes of our gift umbrellas.
Therefore, if you want to offer your clients, partners, or even neighbors, a personalized umbrella with the image of your business that is not only beautiful but also useful, durable, and a perfect complement to any spring or fall look, the first thing you should do is go in search of the best brand umbrella of the moment and find out what type of model suits your professional needs.
Next, we will explain a detailed guide to buying the best umbrellas customize the moment, as we as a company specializing in their preparation believe that the best way to guess is to know in detail the product.
Take note!
The Complete Buying Guide for Custom Umbrellas
Have you decided to create a line of umbrellas fully customized with the logo and colors that define your business brand? Do you have the logo, the slogan, and the colors, but you have no idea what the different steps are in this creative process? Don't worry, because below we will explain in detail the different aspects that you will have to take into account before designing your umbrella, making your choice easier and
ensuring the maximum degree of satisfaction with the result.
Let's get started!
Types of custom umbrellas
City Umbrella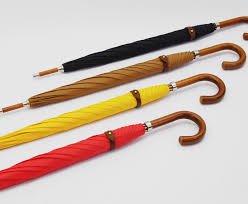 Have you ever heard that expression that says: No Englishman is a true Englishman if he does not carry his umbrella? Surely you have. And as we can see in all the graphic novels of the famous mystery detective Sherlock Holmes, this iconic English character always had three objects in his wardrobe and home by default: a pipe, a beret, and an umbrella. And what kind of umbrella is considered traditional English? The city umbrella, of course.
This model of umbrella is famous all over the world, both for its design and its functionality, featuring a medium-sized canopy finished in a unique metal tip and a curved handle that makes it easy to hold and move.
Now, apart from these predetermined characteristics, one of the most important aspects to highlight in this type of umbrella is its versatility, being able to be well dressed in a formal suit as if we go in sportswear. They always fit well and will always provide us with sufficient protection in our day-to-day life. An ideal model for our custom umbrellas.
Golf Umbrella

As its name indicates, this model of an umbrella was first designed with the sole function of protecting golfers from rain and sun during their long days of the sport. This is why the design of this type of umbrella has a canopy size twice as big as the standard city umbrella, which in turn causes the whole structure of the shaft and the shaft to be much thicker to balance the total weight of the product.
However, although the entire umbrella is generally larger and heavier than other models, thanks to the new materials that exist in the manufacture of umbrellas you can balance its functionality and comfort, making it somewhat lighter and providing those who want extra protection their transport throughout the day.
In terms of advertising, this type of umbrella is considered perfect to reflect the slogan of the companies, because having a wider canopy will allow us to print in detail our logo and our messages as a company. Do you want your image to be seen all over the city on the greyest days through the umbrellas of your trusted partners? Then don't hesitate to opt for a golf umbrella to make your first custom umbrella!
Parasol

I don't need to describe to you what a sunshade looks like and functions, because nowadays everyone has seen or had one at some time in their life. They are a large type of umbrella, the largest of all with a canopy arch that reaches 62 inches, being also the most resistant against wind and rain and the action of UVA rays on the skin.
It is a somewhat cruder and simpler model than the others, but it does not have to be less beautiful: the key is to know how to combine the materials and colors. In terms of business and advertising, a sunshade is one of the ideal models for those seeking greater visibility, whether in outdoor or indoor events, as its large size will allow us to print in high definition any logo or slogan.
But if you still have doubts and you wonder if giving away a parasol to promote your company is a good idea? The answer is clearly yes because everybody ( businessmen or not ) will need some time a big umbrella that will protect us from the sun, the wind or the rain in our family escapades.
Reversible umbrella

If what you want is to stand out and give an innovative umbrella that is different from the classic gifts that other companies give, what you need is to make a personalized reversible umbrella. This type of umbrella has been gaining much popularity in the last decade because, in addition to having a different look to the conventional umbrella, the reversible umbrella has a set of benefits that make it much more practical and safe than others.
The main difference with this type of umbrella is that instead of having the entire exterior canopy facing outward during the opening, this umbrella has the handle at the apex leaving the entire interior of the canopy exposed to the outside. Therefore, instead of pulling upwards to open the canopy, it is the canopy itself that descends when opened, thus avoiding such common problems as getting wet waiting for it to open or trying to open it from a half-open car door in the middle of torrential rain.
Besides, most inverted umbrella models have designed an ergonomic "C" shaped handle that makes it easy to hold and transport. It's a perfect model to get your audience's attention and create a good impression, so if you choose it as your custom umbrella type you'll never go wrong. It's all advantages!
Telescopic umbrella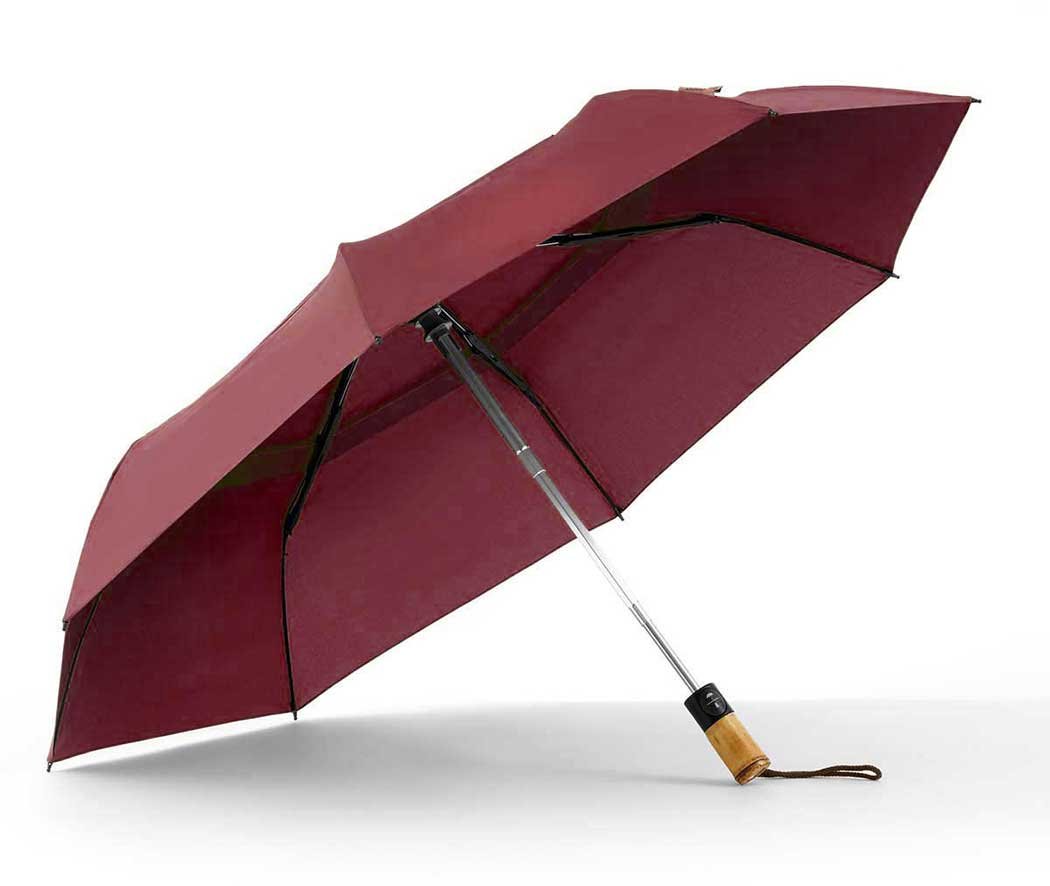 The telescopic umbrellas are also known as "pocket umbrellas", because they are those we can carry folded inside our bags and backpacks, being able to open and close them quickly and accurately when strictly necessary. The size of this type of umbrella is the smallest of all with only about 15 inches of the canopy, which does not have to mean that its resistance and functionality are inferior to golf or city umbrellas.
The key to making a telescopic umbrella as practical as the rest is in the quality of its materials, preferably incorporating an automated system to open and close through a button and its canopy is made up of two layers of ultra-resistant fabric. The decision to choose this model or not for your next customized umbrella will depend on the target audience since these umbrellas are ideal for those who spend their days up and down the big cities of the world.
Do you want to promote your brand giving away efficiency, comfort, and speed in pocket size? Then your best option will always be to choose to make the best telescopic umbrellas from our top quality materials. They are a safe and stylish bet!
How do I order my custom umbrellas?
Once you have clear all the types of umbrellas that are available on the market, the next question to be answered is: how do I make my order to manufacture my custom umbrella? And that's what we will do next, explain clearly and concisely the step by step that any individual or company must carry out to ask us for high-quality custom umbrellas.
Take note!
Select the model
The first thing you must do is select the model of umbrella you want for your order: golf, city, reversible, sunshade or telescopic. However, that will not be enough since you will also have to determine the size, color or pattern you want for that model and the materials you want it to be built in. In this way we will be able to know exactly the dimensions that we will have to customize your umbrella and the estimated price of each unit in order to give you a detailed and precise estimate of the whole order.
Send us your art file
We call the art file (logo/image/text) the file containing the logo, text or stamping with which we must customize each umbrella. It is essential that this file is always in a format compatible with our design programs: JPEG, PDF, AI, EPS, etc.
Although we, as professionals in this sector, always recommend our clients that the best format to encode this file is AI, since it is the one that allows us to save the images with better quality and precision, however with any of the other formats we could also work and obtain good results.
Umbrella and sample printing
The last step to get your custom umbrellas is the printing, possibly the most delicate step and the one that should be repeated more times in case of error. For this reason we always give a sample of the final result of the umbrella to the customer, as this way you can carefully observe every small detail and request any changes if necessary. This way we save a lot of time and money, since instead of making the whole order and waiting for the customer to see it, we show him a sample for his approval and his consent to make the rest.
Key factors for its construction and design
The color palette: Pantone system
One of the most important aspects that any entrepreneur should carefully analyze before customizing their first line of branded umbrellas is the following: their color palette. Do you use a default color range? Have you previously designed your logo from the professional Pantone? brand palette? These and many other questions are the first to be answered to know how we can design the color palette of our umbrellas.
It is not the same to have random colors as to have all our professional products designed from the Pantone color program, since this program will provide us with a series of standardized colors that will ensure that everything we do, whether physical or virtual, contains the same colors regardless of whether they are manufactured by one company or another.
Therefore, if we want to offer umbrellas both virtually and physically with a range of uniform colors that match in all its shades, the best we can do is request the prior design of our Pantone color palette, and if we already have it used and let the company responsible for manufacturing umbrellas make us different samples of the product customized with our colors to see if we like the result.
The type of canopy
The next aspect that you should carefully analyze the design of your new company umbrella? The type of canopy they will be built with. It will be useless to have created a perfect color palette and have a beautiful logo perfectly printed on the canvas if the material we have chosen to make our umbrella is poor and does not support too much wind, or prolonged use.
And what types of the canopy are currently available? There are several options and all of them will guarantee optimal quality for our umbrellas, it all depends on our personal preferences and the investment we are willing to make in its manufacture. For large umbrellas, it is usually sufficient to use a single-layer canopy with high breathability, while for smaller and more compact models it is preferable to use a double-layer canopy that is more resistant to wind shocks.
Do you want your personalized umbrella to be synonymous with quality and resistance? Then don't think twice and choose to build them with a pongee canopy. It's a winning bet.
The handle

The color, the materials, all these aspects are very well and of course play a crucial role in the design of our custom umbrellas, however, if we are talking about ergonomics, comfort, and maximum feeling of comfort for those who have to use it, what other elements should we take into account? The handle, of course.
Because no quality umbrella will be considered high-end if it is not comfortable to carry. No matter how good the quality of the canopy or how nice the color combination is, choosing the wrong handle could spoil all our efforts, and what is worse all our money. Therefore, try to always look for a handle that provides an optimal grip and don't get carried away by appearances, because a nice handle will not always be comfortable, and what you need is to guarantee the best user experience. Don't forget that.
The main styles of the handle that are currently available are very varied, ranging from the most classic style of a rounded curve to the most sophisticated silicone and grooves to place the palm. Of course, there are also all kinds of straight handles with all kinds of textures and shapes, the most recommended being those that allow us to have more control over the surface if necessary and prevent our umbrella from ending up on the ground because it could not be held in front of a winter gale.
The size

What kind of company do you have? Do your clients or partners need a daily umbrella or do you think they need a more exclusive product that they only use in certain situations of their daily life? Do you want to give preference to comfort or excellence? All these questions are key to determine the size to choose for your future umbrella because depending on the answers you get, you will surely have a much clearer idea of the function of your gift and its final appearance.
Our company has a wide variety of sizes, ranging from the largest model with a 62-inch bowl, too much more compact and lightweight models with a bowl of only about 38 inches. Of course, between one size and another, there will also be another factor to take into account before making our decision: price. How much money are you willing to invest in your new business? How much of that budget do you plan to spend on gifts and marketing products? Because depending on the total budget you have, you will have to choose between one size or another, since the more meters of fabric you need a per piece, the higher its price.
Also, keep in mind that the size of a gift has a direct relationship with the economic possibilities of the giver, that is, the bigger and more sophisticated your umbrella is, the better impression you will generate. So it is worth investing a little more money in merchandising that will raise our business image little by little and create a good reputation among our main customers. Remember this before making your choice.
Axis type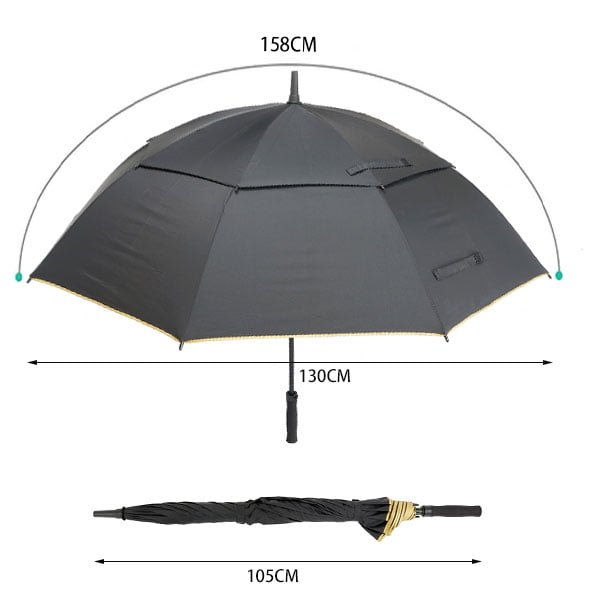 Apart from the design and style of our custom umbrella, one of the most important aspects that will make our product more functional and practical for our customers is the type of shaft we decide to install. The most used material ever for all traditional umbrella shafts? Wood, of course. Luckily, umbrella design has not stopped evolving in the last decades and has started to try to build those same shafts from such modern materials as fiberglass.
A shaft with fiberglass rods will make our canopy much more resistant to breakage during very heavy rains and high-speed winds while improving the user experience by the low weight it brings to the whole umbrella, something that could be very useful in the case of having chosen to make a large umbrella since by default these models already have a higher weight than the more compact ones.
However, if you find fiberglass too expensive and wood too classic and old-fashioned, the last option you have available and which always works in any type of umbrella is to choose to build it from steel. Steel is a material that offers great versatility in terms of color and design while guaranteeing more than good resistance and durability. It is cheap, it combines well with any color or pattern and on top of that it is resistant, what more can you ask from a gift umbrella?
These are the main steps you will have to follow in order to manufacture your custom umbrellas, all the models you will be able to choose from and the features and materials you will have to take into account before making your final choice. If you want to know more about all our models and want to make a complete budget with the help of our professionals, do not hesitate to visit custom umbrellas and contact us. We will be happy to assist you!