Introduction
Huifeng Umbrella specialize in manufacturing all kinds of rain umbrellas, parasols umbrellas, golf umbrellas, beach umbrellas, folding umbrellas, promotional umbrellas, mini umbrellas,kids umbrellas, patio umbrellas, fashion umbrellas, transparent umbrellas, wedding umbrellas, patio umbrellas etc. Most of our products are exported to Korea, Japan, Europe, UK, USA, Canada, Australia.
As a professional umbrella supplier, "High quality and good service" is always our obligation, pls email us about your need here . You can find much competitive prices of high quality umbrella products.
If you are looking for an umbrella supplier for your business, please browse our website to see the wide variety of high quality fashion umbrellas, golf umbrellas, and kids' umbrellas we have to offer to satisfy your needs for personal use, merchandise for your shop, or promotional items for your business. Place your order online for immediate delivery or contact us for custom printed umbrellas.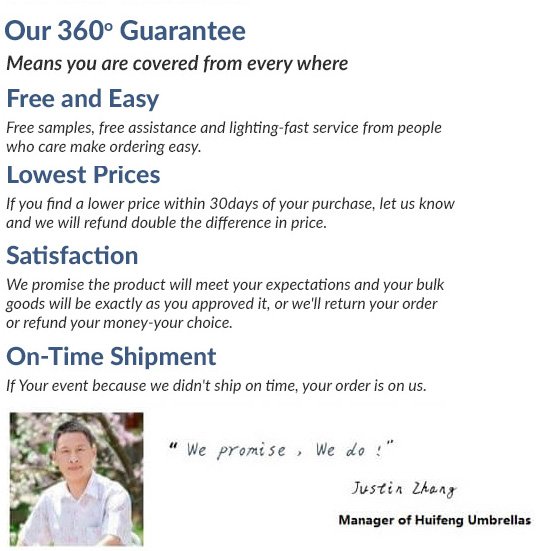 Business Principle
The achievements of our organization are the result of the combined efforts of each individual in the organization working toward common objectives.
We understand our success is dependent upon our customers' success.
Regardless of market conditions, our business principles and the power of our individual and company commitments mean that we will remain a consistent resource for our customers.
We stress teamwork in everything we do. We have found that team effort often produces the best results. Our commitment is to work as a team to fulfill the expectations of our customers, shareholders and others who depend upon us.
Integrity and honesty are at the heart of our business. We expect our people to maintain high ethical standards in everything they do and to be open and honest in their dealings to earn the trust and loyalty of others.
We have trust and respect for individuals. We attract a diverse group of highly capable, experienced, innovative people and recognize their efforts and contributions to the company.